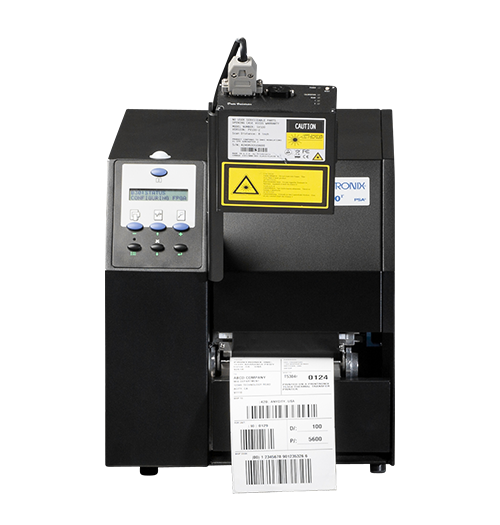 Online Data Validation-ODV
Product Code:
IBCPRODV
Company:
printronix
Status:
In Stock
Product Description :
Our exclusive Online Data Validation (ODV™) eliminates compliance fees with automatic, 100 % barcode validation. Available on the SL/T5000r thermal printer, ODV ensures that all barcodes meet the most stringent scanning standards, reducing unnecessary compliance costs.
Key Features :
With our one and only ODV technology, you can:
Eliminate chargebacks due to refused or delayed shipments
Deliver 100% scannable barcodes to your production area every time, automatically
Eliminate unscannable barcodes from entering into your supply chain distribution system
Reduce labor costs and downtime with an unattended solution
Capture and display the raw data within each barcode, to provide further assurance that critical data, such as serialized barcodes, print correctly
Find out how the Printronix ODV solution can make your printing process more efficient and productive.
Technical Specifications :
BARCODES SUPPORTED
Code 39
CODABAR
Interleafed 2 of 5
Code 93
Code 128
UPC/EAN plus add-ons
PDF417(Limited)

Checks linear start and stop bar only
LABEL REQUIREMENTS
Quiet Zone: Minimum 10 times x-dimension
Barcodes per line Up to 4 codes on the same horizontal line
Barcodes per form Up to 99 codes per form
Barcode orientation Picket fence only
Horizonal Spacing Minimum of .5" between codes on the same horizontal line
Barcode Height Minimum bar code height is .13"
TOF to TOF Minimum Distance .5"
LINEAR BARCODE SPECIFICATIONS
STANDARD ODV OPTION

Scan Width: 4" (200 mm), X-Dimension (min.): 6.6 mil (0.17 mm), Min. Code Height: 0.13"(3.3 mm)
Scan Width: 6.5" (165 mm), X-Dimension (min.): 10 mil (0.25 mm), Min. Code Height: 0.14"(3.6 mm)
Scan Width: 8.5" (216 mm), X-Dimension (min.): 20 mil (0.51 mm), Min. Code Height: 0.20"(5.1 mm)

WIDE ODV OPTION

Scan Width: 8.5" (216 mm), X-Dimension (min.): 13 mil (0.33 mm), Min. Code Height: 0.20"(5.1 mm)
* Scan width centered around middle of print width. ** Wide ODV available as a special field option only.PRINT RUN REPORT
Number of forms printed
Number of bad forms
Bar width deviation of last bar code
Number of codes printed
Average bar width deviation
VALIDATION ERROR ACTIONS
Retry Form (default), Stop and Retry, Grade and Report, Rescan Form, Rescan and Retry, Rescan and Stop, Overstrike, Stop
VALIDATION ERROR NOTIFICATION MODES
Printer Display
Printer Audible Alarm
Printer Status Light
Remote Notification
TELEMETRY REPORTS
Telemetry Path: Network Port
Data Contents (Selectable)

Short: Pass/Fail quality results
Validation: Pass/Fail quality results + actual decoded data
Full: Validation + all measured parameters
AGENCY CERTIFICATIONS
cTUVus
CE
Class 2 Laser Product
EN60950-1:2006+A11:2009
EN60825-1:2007