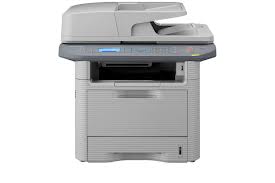 Samsung SCX-5637FR
Product Code:
MI5637FRSLP
Company:
Samsung
Status:
In Stock
Product Description :
Samsung's SCX-5637F multi-function printer is ready to transform the way you work.
Key Features :
Samsung's SCX-5637F multi-function printer is ready to transform the way you work. Within its chic and durable design is a host of features (fax / scan / photocopy / print) that deliver hassle-free performance and – most importantly – high productivity. The anti-jam technology, 2GB flash memory (with Document Box), a Gigabit Network and 600MHz Dual-core CPU integrate seamlessly to deliver a document workflow that is swift, cost-effective and trouble-free. The new Document Box is a standout feature and shows Samsung's commitment to unearthing innovative new workflows. It allows greater flexibility in transporting documents and images between office resources (fax, scan, servers, etc) and will certainly save you time. And when you add in the new easy-to-use OP panel, which features a new one-touch convenience (eco button), you can expect this multi-function printer to deliver fast and hassle-free results.
Free your day with a reliable printing
Set your workday free from time-consuming and stress-causing printer blocks with Samsung's anti-jam technology. Utilizing a semi-retard roller, which provides a unique backward friction during the paper pickup process, your operation will see increases in productivity and even bigger reductions in work frustration. Common problems that often add to stress-levels, such as miss-feeding and multiple paper feeding from the cassette tray, will become things of the past. An impressive high monthly duty is one of the clear-cut and measurable benefits found with anti-jam technology, and will add to a more streamlined and reliable workflow. So, with Samsung anti-jam technology your printing operation can finally be hassle-free, efficient and reliable.
Technical Specifications :
Make hitting your environmental goals a whole lot easier with Samsung's new Eco Mode, which also includes a Results Simulator to check how well you are doing. The Eco Mode features a one touch Eco Button, which conveniently serves as your default setting once activated, and reduces paper consumption with Duplex printing, 2-up printing and a Toner Save setting. Thanks to the Results Simulator, you can really appreciate how much good work you are doing. The simulation shows levels of carbon dioxide emissions, electricity and paper usage. The Eco Mode is an easy and effective way of keeping track of your printer consumption – which is better for you and the planet

This ultra-versatile multi-function printer with fax, scan, photocopy and print capabilities, will not only streamline your workflow but also add new levels of productivity. The 600MHz Dual-core parallel printing technology - 1.5 times faster than single core - and expandable memory integrate perfectly and really boost performance. You'll never have problems with large printing jobs, which are handled with speed, precision and ease. And with various media support available, you'll notice the amazing paper handling that is reliable and efficient. With so many must-have features in one printer, finding a reason not to invest in such a multifunctional piece of office equipment might be harder than you think.