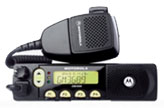 GM3689 Base
Product Code:
Company:
Status:
In stock
Product Description :
The ruggedly built Motorola GM3689 has great reliability and value for money. It is easily customisable and ideal for construction, taxi, courier, and manufacturing industries that requires simple and easy to use controls. GM3689 supports major 5-tone selective signalling stand.
Key Features :
User-friendly
Large ON/ OFF knob and channel button enable easy operation, even with gloved hands.
Up to 255 names, numbers and caller IDs can be called up quickly and conveniently through the contact list.
3 Programmable buttons allows access to the frequently used functions such as scan, repeater talkaround, transmitting power level and others.
8 Character Alphanumeric display allows quick identification of radio status and identifies incoming calls.

Efficient
16 pin external accessory port or optional board interface allows easy expansion of radio's capability.
Supports Select V signalling standards and offers users flexibility in programming up to two "user-defined" signalling standards.
100 channels allow users to independently program each channel for their customised need.
The scan vote feature permits the radio to automatically select the strongest signal ensuring the best audio quality is delivered to the user.
Offers voice compression mode and powerful 4W front-firing speaker for maximal audio clarity.

Compact & Reliable
The compact design enables easy mounting even in cramped vehicles
Rugged construction built to meet or exceed the stringent Motorola ALT and MIL-STD 810C,D and E
Technical Specifications :
Performance Characteristics
Frequency range
66-88MHz, 136-162MHz, 146-174MHz, 403-440MHz, 438-470MHz, 465-495MHz, 490-527MHz
Power output
1–25W(MB, VHF, UHF), 25W(490-527MHz)
Physical Characteristics
Keypad
True
Weight
1.01 Kg
Dimensions H x W x D
44mm X 169mm X 118mm
Available option board
Yes
Display
Yes
Emergency button
No
Radio Features
Signalling
5-tone, DTMF
Channels
100
User Environment
Mil spec
810 C, 810 D, 810 E