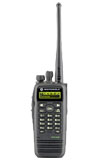 XIR P8260 Portable Two-Way Radio
Product Code:
Company:
Status:
In stock
Product Description :
The XiR P8260 digital portable two-way radio with display delivers reliable communication by combining two-way radio functionality with digital technology. It permits easy migration with operation in analog and digital.
Key Features :
Rugged design
Tightly sealed against wind and dust, and submersible in up to one meter of water for 30 minutes.

Emergency signaling
Sends a help signal to predefined person or group.

Talkaround function
Offers option of speaking through a dispatcher or from unit to unit.

Contacts list
Holds up to 256 contacts.

Flexible display
Menu-driven interface uses icons or text, easing message reading and menu navigation.

Bright sensors
Tricolor LED indicator shows feedback of calling, scanning or monitoring features.

Emergency button
Alerts supervisor or dispatcher during an emergency situation.
Technical Specifications :
Performance Characteristics
Frequency range
VHF:136-174 MHz, UHF1: 403-470 MHz, UHF2: 450-512MHz
Repeater capable
Yes
Standard battery chemistry type
Lithium Ion
Battery life (based on a 5/5/90 duty cycle)
13 hours in digital mode. 9 hours in analog mode.
Frequency band
VHF, UHF
Power levels
5W(VHF), 4W(UHF1, UHF2)
Physical Characteristics
Display
Full
Weight (with standard battery)
12.7 oz. (360 g) (with LiIon non-FM battery), 13 oz (370 g) (with LiIon FM battery)
Emergency button
Programmable
Available option board
True
Dimensions H x W x D (with standard battery)
3.74 x 2.50 x 1.39 in. (131.5 x 63.5 x 35.2 mm) H x W x D
Keypad
Full
Configurations
Remote Mount Capable
Radio Features
Talkaround
Yes

Channel spacing
12.5, 25
Programmable buttons
Yes
Signaling
Enhanced Call Management. Encode/Decode: call alert emergency, remote monitor, push-to-talk ID, radio check, all call, radio disable
Text messaging capable
Yes
Number of channels
1000
CPS (Customer Programming Software)
Yes
Integrated voice and data
Yes
Technology
Digital technology
Yes
System type
Conventional
User Environment
Noise reduction software
Yes

Submersible
Yes
IP Standards
IP57
Intrinsically safe
Yes
Factory Mutual
Yes
Intrinsic safety standard
XPR Portable Series radios have been certified by FM Approvals in accordance with Canada and U.S. Codes as intrinsically safe for use in Class I, II, III, Division 1, Groups C,D,E,F,G when properly equipped with a Motorola FM approved battery option. They are also approved for use in Class I, Division 2, Groups A,B,C,D.
Mil spec
810 C, 810 D, 810 E, 810 F
Warranty
Standard package
Display Portable Radio, Standard Whip Antenna, IMPRES™ Li-ion 1500 mAh Submersible Battery, IMPRES™ Single Unit Charger, 2.5\ Belt Clip, User Guide and Two-year Standard Warranty plus One-year Repair Service Advantage (US only)/Extended Warranty (Canada only)
Standard warranty
2 years