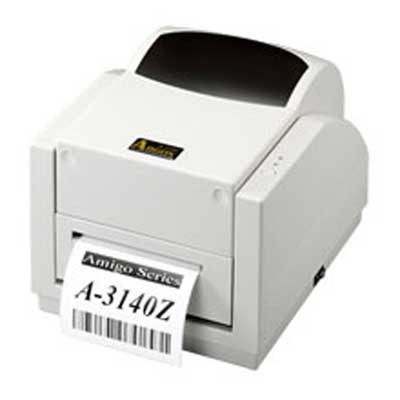 Argox-A-3140Z Printer
Product Code:
3140Z
Company:
Argox
Status:
In stock
Product Description :
The A-3140 desktop thermal transfer printer offers 300dpi resolution and is ideal for printing high quality text and graphic labels such as for logos, small items such as jewelry, or for information labels. Printing up to a rapid four inches per second, the A-3140 has a 32-bit microprocessor.
Key Features :
 the A-3140 connects through standard serial ports and a USB interface. You can load a maximum 5\\\" OD media roll and a see-through window lets you see when it's time to reload. Four auto-calibration modes and reflective and transmissive sensors handle a broad range of media for printing up to 50-inches in length. Barcode support includes 1D/GS1 Data bar, 2D/Composite codes and QR barcodes. For high quality printing, the user-friendly A-3140 provides outstanding and cost-effective performance.
● 300dpi print resolution for high quality printing of text and graphics
● 8M Flash and 8M DRAM memory for high print quality
● 32-bit CPU for up to 4ips printing speed
● No ribbon wrinkle with centralized thermal print head
● RS-232
 and USB interfaces
● Reflective and 
transmissi
ve movable sensors, and fixed center transmissive sensor
● Large 5-inch OD media capacity
● Easy installation of media and ribbon
● Leverages Argox existing controller technology
● Supports 1D/GS1 Data bar, 2D/Composite codes and QR barcodes, and more
● Options include: Cutter, Peeler, Media Stacker, RTC card and Argokee standalone keyboard
Technical Specifications :
Printing method

Direct Thermal & Thermal Transfer

 
 

Printing resolution

300dpi(12 dots/mm)

 
 

Printing Speed

Up to 4ips (102mm/s)

 
 

Printing Length

Max 50"(1270mm)/Min 0.2

 
 

Printing Width

MAX 4.1

 
 

Memory

8MB DRAM (5MB user available)
8MB Flash ROM (6MB user available)

 
 

CPU Type

32 bit RISC microproceessor

 
 

Sensors

Media gap & black line Reflective sensor x 1 (Movable) & Transmissive semsor x 1(Movable)
Center

 
 

Operation Interface

LED Indicator(Power/Ready)x2, Button(Feed)x1

 
 

Communication Interface

RS-232, USB, Ethernet(Optional)

 
 

Fonts

Internal character sets standard
5 alpha-numeric fonts from 0.049"H ~ 0.23" H (1.25mm ~ 6.0mm)

 
 

1D Barcodes

PPLZ : Code 39 (standard/with checksum digit), Code 93 Interleaved 2of 5 (standard/with checksum dig

 
 

2D Barcodes

PPLZ: MaxiCode, PDF417, Data Matrix (ECC 200 only), QR code, Composite codes

 
 

Graphics

PPLZ:GRF, Hex and GDI

 
 

Emulation

PPLZ

 
 

Software - Label editing

Windows Driver (Win 2003/XP/Vista/Windows 7), BarTender

 
 

Software - Utility

Printer Utilit, Font Utility

 
 

Media Type

Roll-feed, die cut, continuous, fan-fold, tags, ticket in thermal paper or plain paper and fabric la

 
 

Media

Max Width: 4.33"(110mm) Min Width:1(25.4mm)

 
 

Dimensions

W201mm x H179mm x L245mm

 
 

Ribbon

Ribbon Width: 1"~4" 
Ribbon roll – max OD: 1.45"(37mm) 
Ribbon Length: max 100m 
Core siz

 
 

Weight

2.2kgs

 
 

Power Source

Universal Switching Power Supply 
Input: 100V~240V±10%, 1.5A, 50~60Hz, 
Output: 24VDC, 2.4A

 
 

Operation Environment

Operation Temperature: 40℉~100℉ (4℃~38℃), 
0% ~ 90% non-condensing, 
Storage Temperature: -4℉~

 
 

Optional Items

Cutter, Dispenser kit, Stacker, RTC card, ArgoKee

 
 

Agency Listing

CE, FCC, cTUVus, CCC

 
 

Attention

*This data sheet is for informational purposes only. Argox makes no warranties, expressed or implied