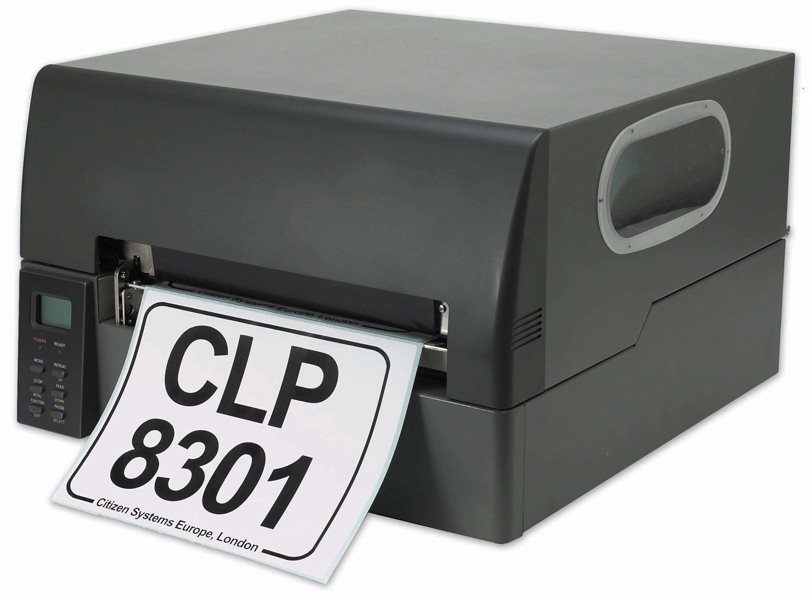 Citizen CLP-8301 Printer
Product Code:
IBC8301BP
Company:
Citizen
Status:
In-stock
Product Description :
The CLP 8301 is designed for all  high performance at the resolution for 300 dpi, and CLP 8301 can also print  on upto 8.6 inches media. its modular design is unoque which provides extra flexiblity and expandability.
Key Features :
The dynamic and robust Citizen CLP-8301 thermal transfer printer features high performance 300 dpi resolution at 4 inches per second throughput speed.Roll fed (up to 8 inches), continuous or fan fold media may be printed at widths up to 8.6 inches. The Citizen CLP-8301 can also print on 6 inch media for those narrower application requirements. The heavy duty metal case provides durability and user friendly quick loading of label media and ribbons (wax, wax/resin or resin).For extended compatibility, the CLP-8301 printer features Datamax industry standard emulations along with Citizen\\\'s own powerful command language to allow users to take advantage of the extra functionality of this high resolution printer.The Citizen CLP-8301 features a unique modular design that is flexible and expandable allowing for a wide range of interfaces and accessories.Standard interfaces include a parallel and serial port (up to 115Kbps), optional 1284 parallel and universal serial bus. The optional PCMCIA card allows the printer to be used in stand alone unique applications. Therefore, the user can load keyboard or personal computer.
Technical Specifications :
Solid, tough structure allows printer use in severe operating environments.Prints out on 8-inch wide paper but the design still saves space.Front-mounted LCD panel for easy key operation. Simple design means easier maintenance.Full-open mechanism for easy paper-loading. Two-dimensional bar codes.Equipped with a wide variety of interfaces to fit in various environments.300dpi print resolution at up to 4inch per second.