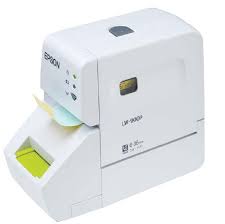 Epson LW 900P Printer
Product Code:
MILW900P
Company:
Epson
Status:
In Stock
Product Description :
Epson LabelWorks™ printers provides easy-to-use functionality, professional solutions according to labelling needs.
Key Features :
Epson LabelWorks™ printers provides easy-to-use environment, professional solutions to each and every labelling need. Choose from a wide selection of Epson label media in a variety of widths, patterns, colours and finishes to create high-quality, professional labels with minimal waste and maximum savings.
LabelWorks LW-900P, Professional Labelling from Your PC or Mac.
Desktop electronic label printing system that connects to your PC or Mac
Accepts 9, 12, 18, 24 and 36mm tape widths
Ideal for office labeling, including filing, storage, asset tagging and barcode printing
Easy-to-use label editing software included
Provids functionality to choose from pre-defined templates or design your own
Conviniently inserts images, borders, barcodes and symbols
Import data in csv, txt and xls(x) formats and print labels for each line of data.
Technical Specifications :
Label-Works printers offer flexibility to a great extent with up to 14 font types and 10 different styles (bold, shadow, outline, etc), 457 symbols and 87 frames, for users to create unique labels for every need. Epson's wide selection of high-quality labels in different variety of styles, sizes and colours lets you create labels as eye-catching, personal or professional as needs be. Tape widths range from 9mm to 36mm, in standard, metallic and pastel colours, patterns, and even specialised applications such as iron-on, glow-in-the-dark, cable wrap and index tapes.