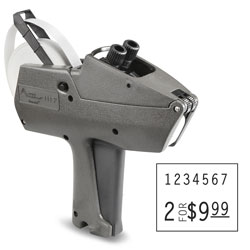 Monarch 1115
Product Code:
MI1115HL
Company:
Monarch
Status:
In-Stock.
Product Description :
The Monarch 1115 price gun dispenses Monarch 1115 labels vertically. Customers that use this Monarch price gun model love the vertical label dispensing which can allow for a horizontal label application. It allows users to turn the tool sideways and apply the label. This technique is quite useful in applying the labels if you have small boxes stacked that need price marked. The Monarch 1115 remains a popular two line pricing gun thanks in part to the label guide that helps to keep the labels aligned while feeding through the gun.
Key Features :
The Monarch 1115 is a two-line pricing gun. The labels therefore have a top line for pricing, a customizable or preprinted middle line, and a bottom line for additional pricing. The Monarch 1115 boasts an almost endless amount of usage options. Because it is a two-line pricing gun, the labels can carry more information. The Monarch 1115 labels labels are great for comparing prices, labeling outdoor products, and keeping track of shelf dates, SKU codes, and quite a bit more. The labels for the monarch 1115 are available in fifteen different colors, as well as various different stock prints, including "sale," "clearance" and "special." As mentioned above, the middle line may also be used for custom print.
Classic range
Prints up to 16 characters in 2 lines
Fast, click and stick operation
Light-weight portability
Numeric, Alpha, Month, Year, Weights, Currency print bands
Label size: 20mm x 11mm
Labels per roll: 15,000pcs
Labels per case: 240,000pcs (16 rolls)
Each label roll includes ink roller
Plain or custom labels
Plain or custom labels
Technical Specifications :