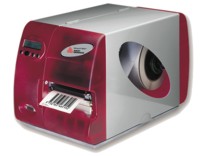 Monarch 9854 Printer
Product Code:
MI9854
Company:
Monarch
Status:
In-Stock.
Product Description :
Bar code errors result in shipping delays and costly fines. Inefficient tracking means mistakes and slowdowns. Coordinating labeling internationally can be a headache. The Monarch 9854 Tabletop Bar Code Printer solves these issues and more, helping you move your merchandise quickly and accurately through the supply chain.
Key Features :
The print pressure of the print head can be varied very easily using the adjustment screw. In addition, the graphical display shows status messages and menu guidance in a user-friendly manner.
Increase Productivity
Increase your productivity with the Monarch 9854 Tabletop Printer:
Quick Printing! Super fast 150 MHz processor and print speeds up to 8 ips.
Decrease Downtime! Fast, easy and intuitive supply loading.
User replaceable printhead.
Real time clock built in to allow for date/time stamps.
Secure off-line operation -store formats on removable compact flash card.
Features and Specs at a Glance
Thermal Direct or Thermal Transfer
On-demand or Continuous
Prints Tags or Labels
Operates On-line or Off-line
Enhanced Print Quality
Prints up to 8 ips
Optional 300 dpi Printing
Technical Specifications :