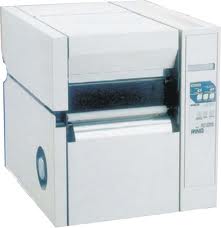 Ring 8012 PMX
Product Code:
IBC8012BP
Company:
Ring
Status:
In-Stock.
Product Description :
It provides a high level of flexibility and a large expended area is provided by the pixel programming and allows the rotation in the printing angles in all four sides.ie. 90,180,270,360.
Key Features :
Programming Language Feature: Advanced Label marking language-ALL, ALL commands are all ASCII characters. This allows flexibility with many environments and platforms, Easy to program and format printing areas, Pixel programming allows expanded area of up to 4 times, Four direction print rotation(0,90,180 & 270 degrees)
Reverse print and area fill in, Mirror print,Half Tones,Lines, dotted lines, angle lines and boxes, Bit image data transfer and printing, Downloadable graphics, text, font and formats to optional memory card, Character Set(Code page)table, Serializing(Numeric),
Communication and print functions, RLE data compression, Graphic supported AIM, AIX, BMP, PCX(Monochrome only).
Technical Specifications :
Features: Printing Method - Thermal Transfer/Direct Thermal, Harmonic (History Control Print Head). Sensors - Ribbon sensor (Reflective method), Label sensor (Transmit method), Media Home position sensor, (Transmit-Auto calibration method), Printing Mode and Functions - Peel off, Tear off(demand type)with label back feed for top of label printing. Batch printing(Stip-for continous printing of labels. Can be used with optional External Rewinder), Butt cut label printing(Requires optional back side mark sensor).