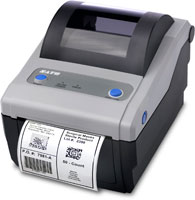 Sato CG Series
Product Code:
IBCCGBP
Company:
Sato.
Status:
In-Stock.
Product Description :
The SATO CG408 is a full-function industrial desktop printer with a print resolution of 203 to 300 dpi and the print speed of 4 inches per second. It is available in an Antimicrobial casing.
Key Features :
The SATO CG408 is a full-function desktop printer with a 4\\\\\\\" print width and a 203 dpi resolution and is available in direct thermal and thermal transfer versions. The SATO CG408 is delivered stock out of the box with competitive emulations onboard, optimal interfaces (built in USB standard) and an antimicrobialial casing for outstanding performance in clinical and processing environments.
Technical Specifications :
Quick Specs
• Model : CG408/412
• Print Method :Direct Thermal/Thermal Transfer
• PrintWidth : 4.1"
• Print Speed : 4 Inches Per Second
• Print Resolution : 203/300 dpi
• Max. Ribbon Length: 100 Mtr
• Memory : 4MB Flash & 8MB RAM
• Casing : Anti-Microbial.