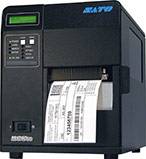 Sato M84Pro Series
Product Code:
MI84PROBP
Company:
Sato
Status:
In-Stock.
Product Description :
Sato M84 Pro Series Printers are Industrial Printers Used to Print Barcode Labels, Stickers Data etc. for identification purposes of assets and Inventory. These Printers are Industrial Printers and therefore used to print large number of Data which is not possible by ordinary Printers
Key Features :
The M84Pro Series - the robust industrial generation of high performance printers with high resolution capabilities. The M84Pro offers user configurable print resolutions of 203, 305, and 609 dpi. The M84Pro's powerful electronics provide high throughput and print speeds of 10, 8 and 6 ips at 203, 305 and 609 dpi respectively.
Technical Specifications :