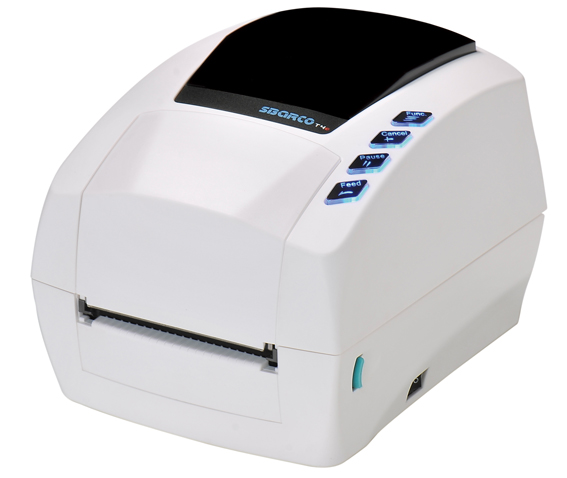 Sbarco T43E 300 dpi Label Printer
Product Code:
T43E
Company:
Sbarco
Status:
in Stock
Product Description :
Higher resolution, Friendly price
T43e is a higher resolution and friendly printer in SBARCO T4e entry level series. T43e 300 dpi resolution offer the high performance printing qualtity on fine text, graphic and 2D barcode.
T43e, 300 dpi, is equipped with a 32 bit microprocessor for the faster printing job; T4e offers a standard memory 4MB Flash ROM and 8MB SDRAM; it is built with the most common communication ports, USB master and USB slave interfaces which can connect directly with PC or scanner for Scan to Print function; 4 function keys and one red LED light can easily operate the printer and show the error status.
T43e is the right choice for who is considering for high performance and superior price.
Key Features :
T43e 300 dpi Label Printer
300 dpi resolution
4MB Flash memory, 8MB SDRAM
4 LED buttons indication
USB master and slave port, Serial port, Ethernet port (option)
Movealbe reflective sensor
Easy paper and ribbon loading
Scanner with USB interface for Scan to Print operation
Technical Specifications :
PRINT

Resolution
300dpi (12 dots/mm)
Mode
Thermal transfer/Thermal direct
Print speed
1 to 3 ips (25.4 to 76.2 mm)
Max. print length
150" (3810 mm)
Max. print width
4.1" (104 mm)
CPU

32 bit CPU
MEMORY

8MB SDRAM
4MB Flash ROM
CONTROL PANEL

4 functional LED light buttons, including error light
SENSORS
Moveable reflective sensor
Cover open sensor, ribbon sensor
COMMUNICATION
USB A master/USB B slave, Serial, Ethernet (option)
POWER
External universal switching power supply
BARCODE
1D
Code39 stand or extended, Code39 with check digit, Code93, Code128 UCC, Code128 Auto A,B,C mode, EAN8, EAN8/13 2&5 digit add-on, EAN13, Interleaved 2 of 5, Interleaved 2 of 5 with check digit, Interleaved with human readable check digit, UCC/EAN 128, UPC-A, UPC-A 2&5 digit add-on, UPC-E, UPC-E 2&5 digit add-on, UPC Interleaved 2 of 5
2D
PDF417, Maxicode, Data Matrix, QR code
INTERNAL FONT

5 internal expandable bitmap fonts (alpha-numeric)
2 internal expandable bitmap fonts (numeric only)
Downloadable soft font

4 directions: 0, 90, 180 and 270 degrees
GRAPHICS
PCX, Direct binary graphic
MEDIA
Type
Continuous, die-cut, tag, fan-fold, gap, notch, black mark
Width
0.59"~4.33" (15 mm~110 mm)
Thickness
0.002"~0.0075" (0.06 mm~0.2 mm)
Core diameter
1.0" (25.4 mm)
Max. roll diameter
5" (127 mm)
RIBBON
Type
Outside coating ribbon
Width
1"~4.3" (25.4 mm~110 mm)
Max. length

100 M
Max. OD
1.535" (39 mm)
ID
0.5" (12.7 mm)
ENVIRONMENT
Operation

5°C ~45°C (40°F~104°F)
Storage
-20°C~50°C (-4°F~122°F)
HUMIDITY
Operation

10%~90% non-condensing
Storage
5%~95% non-condensing
DIMENSION
Width
7.83" (200.00 mm)
Length
10.36" (263.19 mm)
Height
7.41" (188.29 mm)
Weight
2 KG
OPTION
Peeler kit
Cutter
Ethernet printer server
RTC battery card