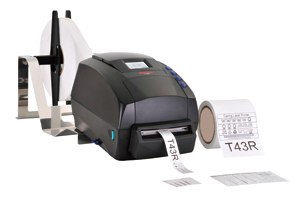 Sbarco T43R Care Label printer
Product Code:
T43R
Company:
sbarco
Status:
call 9717122688
Product Description :
Industrial printer for care label? You have anohter choice for care label printer, SBARCO T43R.
Key Features :
SBARCO releases a model, T43R, for care label printer total solution. T43R is equipped exclusive cutter, label stacker and label roll holder which make the care label be printed and cut correctly without shifting and sticking problem during the printing process. The minimum cutting length is 10mm. 300 dpi printing resolution can print very fine characters, graphics and barcode.
T43R overturns the concept of care label printer, a desktop printer can do the same work as industrial printer, even it is the most cost-effective.
Total solution for care label printer
300 dpi printhead resolution for finest characters and graphics
Exclusive label holder, stacker and cutter
No shifting, no sticking in printing care label
LCD monitor for selecting stored care label forms for standalone operation
10mm min. cutting length
No sticking on 102mm. in printing and cutting width
SD card and internal memory support hundreds forms
The most cost-effective care label printer
Technical Specifications :
PRINT
Resolution
300 dpi (12 dots/mm)
Mode
Thermal transfer
Print speed
1 to 3 ips (25.4 to 76.2 mm)
Max. print length
150" (3810 mm)
Max. print width
4.1" (104 mm)
Min. cutting length
0.39\\\ (10mm)
CPU
32 bit CPU
MEMORY
8MB SDRAM
4MB Flash ROM
SD slot for expansion, up to 32GB
DISPLAY
Backlight LCD display, 128 x 64 dots
CONTROL PANEL
4 multiple functional LED light buttons, including error light
SENSORS
Reflective sensor
Cover open sensor, ribbon sensor, label sensor
COMMUNICATION
Serial, USB master/slave, Ethernet (option)
AUDIO
Buzzer warning sound
POWER
External universal switching power supply
BARCODE
1D
Code39 stand or extended, Code39 with check digit, Code93, Code128 UCC, Code128 Auto A,B,C mode, EAN8, EAN8/13 2&5 digit add-on, EAN13, Interleaved 2 of 5, Interleaved 2 of 5 with check digit, Interleaved with human readable check digit, UCC/EAN 128, UPC-A, UPC-A 2&5 digit add-on, UPC-E, UPC-E 2&5 digit add-on, UPC Interleaved 2 of 5
2D
PDF417, Maxicode, Data Matrix, QR code
INTERNAL FONT
5 internal expandable bitmap fonts (alpha-numeric)
2 internal expandable bitmap fonts (numeric only)
Downloadable soft font
4 directions: 0, 90, 180 and 270 degrees
GRAPHICS
PCX, Direct binary graphic
CARE LABEL
Type
Care label
Width
0.59"~4.33" (15 mm~110 mm)
Thickness
Max. 0.0059"(0.15 mm)
Core diameter
3\\\ (76.2mm)
Max. roll diameter
10" (254 mm)
RIBBON
Type
Outside coating resin ribbon
Width
1"~4.3" (25.4 mm~110 mm)
Max. length

110 M
Max. OD
1.535" (39 mm)
ID
0.5" (12.7 mm)
ENVIRONMENT
Operation

5°C ~45°C (40°F~104°F)
Storage
-20°C~50°C (-4°F~122°F)
HUMIDITY
Operation

10%~90% non-condensing
Storage
5%~95% non-condensing
DIMENSION
Width
7.83" (200.00 mm)
Length
10.36" (263.19 mm)
Height
7.41" (188.29 mm)
Weight
3.7 KG (with stacker)
FACTORY DEFAULT
3\\\ Cutter, stacker, label roll holder
OPTION
Ethernet printer server