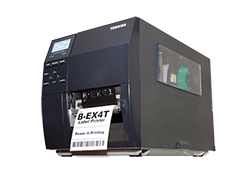 Toshiba EX4T
Product Code:
MIX4TBP
Company:
Toshiba
Status:
In-Stock.
Product Description :
Toshiba provides a premium range of industrial printers ranging from small scale applications to middle scale applications. it increases the ribbon usage by decreasing the gap between the print areas on the labels. the power consumption is very low with respect to the productivity.
Key Features :
Introducing the B-EX T1 Series – a premium range of industrial printers for a wide variety of applications with a mid- range price tag.
The EX4T1 series is based on our world renowned 'near edge' thermal print head technology providing superior performance and speed, as well as increased print head life vs. more traditional flat head machines in a variety of applications. It is also the basis of Toshiba's innovative proven 'ribbon saving' green technology (optional), which can dramatically reduce ribbon usage in most applications: specifically those with large amount of dead space between print areas on the label.
Technical Specifications :
The EX4 T1 offers:
A high-end product with a low price
Superior performance and speed
Low power consumption
Ease of use and maintenance
Competitor emulation capabilities
Fast ROI, low TCO
Long life near edge printhead.