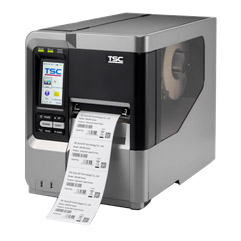 TSC MX 240 Barcode Printer
Product Code:
MX-240
Company:
TSC
Status:
call us 9717122688
Product Description :
TSC MX240 Series Industrial Printer is ruggedly built for high volume, mission critical, label printing. Featuring our fastest processor ever, the MX240 Series boosts productivity with faster communications and printing speeds.
Key Features :
TSC MX-240
The new high performance MX240 Series was built from the ground up to deliver 24x7 mission critical performance. The MX240 Series features a die-cast aluminum print mechanism housed in a very strong yet lightweight cabinet. This new design results in a more durable printer that is suited for your most heavy-duty demand cycles.
Superb resolution, great warranty
There are three models available with the MX Series. The MX240 prints at 203 dpi at speeds up to fourteen inches per second, MX340 offers 300 dpi resolution at speeds up to twelve inches per second, and the MX640 features 600 dpi high resolution which makes it ideal for printing very small 2D barcodes, graphics, fine print and other ultra-high-resolution images. All TSC printers feature a standard two-year limited warranty.
Technical Specifications :
TSC MX-240 Technical Specification  
Heavy duty die-cast aluminum design
Fast 536 Mhz processor
Faster print speed - up to 14 ips
4.3" color LCD with 6-button menus and touch panel operation
Available in 203 dpi, 300 dpi and 600 dpi resolutions
128 MB Flash and 256 MB SDRAM memory
600 meter ribbon capacity
TSPL-EZ™ firmware for plug-n-play ease 
USB host interface for stand-alone application
Applications
High Volume Printing
Work In Process
Compliance Labeling
Inventory Management
Shipping/ Receiving
Asset Management
Electronics & Jewelry Labeling