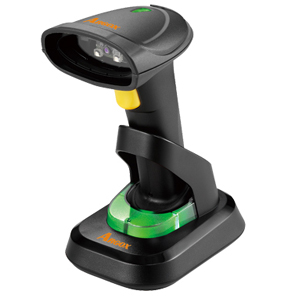 Argox AI-6821
Product Code:
IBC-AI-6821
Company:
Argox
Status:
In-stock
Product Description :
AI-6821, the very first model of Argox wireless 2D Imager Scanner for light-industry grade, eagle-eye grade reading engine that has enhanced performance on 4 mil labels for small IT-components, jewelry labels and so on. The transmission rate is also 3 times faster than the competitors within its class which it will greatly increase your efficiency and minimize your downtime.

AI-6821 has built in cross-line laser targeting design which allows you to work perfectly under ultra-white light and insufficient light source environment with on demand scanning accuracy. It will greatly reduce the user's fatigue. AI-6821 is also the "free to use" device that allows the users to extend up to 100m in distance within it's distance, so it maximizes the flexibility of the users.

● Transcendence of its class The rugged design of AI-6821 is certified by IP65 with drop rate resistance of 1.8 meter vertical distance to prevent any data loss and transmission. impossible to be break. The enhanced alert beep has dynamic setting that fits your working environment even under high-noise condition and it also provides vibration alert.

● Accuracy and Precision The era of Big Data is coming, AI-6821 comes with DataMagic data editing software to enhance your usability. It takes no time to complete the setting with the user-friendly UI design; you will be able to complete the data analysis whenever you want.


Key Features :
● Ruggedized: Industrial grade IP65 dust and water resistance with 1.8 meters safe drop distance protection. It will withstand sudden drops and a variety of collision. AI-6821 will remain stable operation whether you use it for the outdoor or dusty environment.

● Precision & Efficiency: Rapid reading speed. Three times the data transmission speed comparing to other scanners in its class.

● Excellent performance: Processing up to 4mil resolution barcode readability. Support all type of electronic device, such as mobile phone, tablet and LCD display.

● Scanning enhancement: Patented Cross-line laser targeting indicator reduce user fatigue and it will improve your efficiency.

● Data Collection Mode: Support Data Collection Mode for batch scanning (7KB)


Technical Specifications :
Light Source 625nm visible red LED
Image Sensor 752*480 Area Imager
Depth of Field AI-6820:Code 39 5mil 43-143mm, EAN 13mil 37-358m, QR code 8mil 67-110mm, QR code 20mil 37-320mm, PDF 417 13mil 22-250mm, DataMatrix 15mil 32-280mm. AI-6820HD:Code 39 3mil 25-75mm, Code 39 5mil 25-105mm, EAN 13mil 45-150mm, QR code 8mil 30-80mm, QR code 20mil 35-160mm, PDF 417 13mil 25-115mm, DataMatrix 15mil 30-130mm.
Resolution AI-6820: 4mil (Code 39). AI-6820HD: 3mil (Code 39)
Print Contrast Ratio (minimum) 25%
Decode Capability Code 11, Code 128, Code 39, Code 93, Discrete 2 of 5 (DTF), EAN-13, EAN-8, Interleved 2/5, ISBT-128, Italian Pharmacode ( code 32), Korean 3 of 5, MSI plessey, UPCA, UPCE, UPC-E1, UPU FICS Postal, US Planet, US POSTNET, USPS, Australian Post, Japan Post, KIX Post, MicroPDF417, PDF-417, RSS 14 (GS1 databar-14), RSS Expanded (GS1 DataBar Expanded), RSS Limited ( GS1 DataBar Limited), Aztec Code, Data Matrix, MaxiCode, Micro QR, QR, OCR
Wireless Communications BT class1 Version 2.1+EDR 100 meters range
Scan Indicators LED, Beeper and Vibrator
Scanner Dimensions 94mm x 76mm x 158mm

Cradle Dimensions 130mm x 88mm x 95mm
Input Voltage 5V+/- 5%
Operating Temperature -20°C to 55°C (32°F to 131°F) (Charging 0°C to 40°C)
Storage -20°C to 70°C (-4°F to 158°F)
Humidity 5% to 95% related humidity, non-condensing
Ambient Light Up to 100,000 lux
Battery Rechargeable 3.7 V 2200mAh, li-ion Battery
Drop Resistance Scanner:1.8m, Cradle: 0.9m
Programming Method User Manual setting barcod , Windows ScanUtility configuration program
Operation Mode Handcuff mode, Data collection mode, Sleep mode, Auto sensing mode
Sealing IP65
Program Upgrade Enabled by build-in flash memory
Cable Length 1.8m
Scanner Stand Optional
Power Supply Optional
Agency Listing CE, FCC, ROHS, BSMI
Attention *Argox reserves the right to enhance and modify the specification without prior notice. Please check Argox sales representative for most updated specifications.