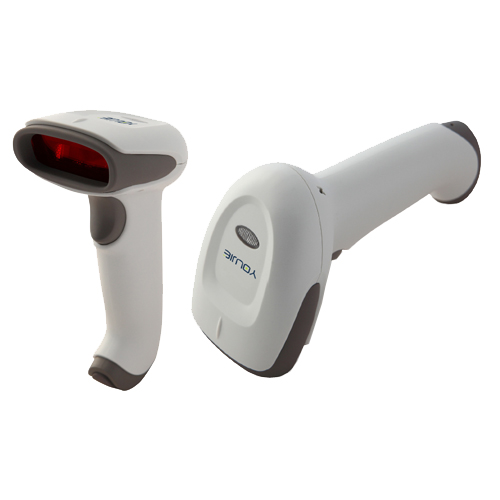 Honeywell YJ3300 1 USB Laser Scanner
Product Code:
yj-3300
Company:
honeywell
Status:
Product Description :
oujie reserves the right to make changes in specifications and other information contained in this document without prior notice, and the reader should in all cases consult Youjie to determine whether any such changes have been made. The information in this publication does not represent a commitment on the part of Youjie. Youjie shall not be liable for technical or editorial errors or omissions contained herein; nor for incidental or consequential damages resulting from the furnishing, performance, or use of this material.
Key Features :
Compact design and outstanding performance: Integrated state-of-the-art laser decoding technology enables high-speed and sensitive scanning performance Reads all linear bar codes: Reads all popular standard 1D barcodes in the world, meeting the requirements of most application conditions High cost-effectiveness: : Enjoys superior performance at a low price, the performance of a laser scanner bought at the price of a red-light scanner Ergonomic form factor: Increased comfort in using experience decreases long-time operation fatigue
Technical Specifications :
1. Light Source : Visible Laser Diode (VLD) @ 650nm 2. Laser Power : Less than 1.0 mW average 3. Depth of Scan Field : 12.7 mm – 254 mm(0.5 – 10) 0.33 mm (13 mil) Bar Code 4. Scan Speed : 72 ± 2 scan lines per second 5. Scan Pattern : Single scan line 6. Minimum Bar Width : 0.1016 mm (4 mil) 7. Decode Capability : Reads standard 1D and GS1 DataBar symbologies. 8. System Interfaces : USB, Keyboard Wedge 9. Print Contrast : 35% minimum reflectance difference 10. No. Characters Read : Up to 80 data characters. The maximum number will vary based on symbology and density. 11. Scan Angle : 46° Horizontal 12. Pitch, Yaw : 68°, 52° 13. Beeper Operation : 7 tones or no beep 14. Indicators (LED) : Red = good read , Green = laser on, ready to scan Electrical 1. Input Voltage: 5VDC ± 0.25V 2. Operating Power: Standby: 700 mW 3. Decoding USB: 975 mW 4. Decoding KBW: 875 mW Operating Current 1. Standby: 140 mA average @ 5VDC 2. Decoding USB: 195 mA average @ 5VDC 3. Decoding KBW: 175 mA average @ 5VDC 4. DC Transformers: Class II; 5.2VDC @ 1A