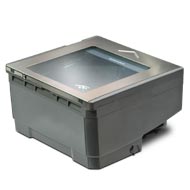 Magellan 2300
Product Code:
IBC2300BR
Company:
Datalogic
Status:
In-Stock
Product Description :
The Datalogic Magellan 2300 uses Magellan 8500 Series scanning technology to create one of the quickest and easiest-to-use horizontal scanners in the industry. The Magellan 2300HS features a large, dense scanning pattern to improve both checkout speed and operator ergonomics. The Magellan 2300 supports all popular barcode symbologies including RSS.
Key Features :
The Magellan 2300HS scanner is specifically designed for retailers that require high performance in a compact, horizontal form factor. Tailored for medium to high volume point-of-sale (POS) applications at an affordable price, the Magellan 2300HS scanner is particularly effective in drug stores, convenience stores, smaller to medium sized grocery stores, DIY stores, and specialty stores. With category leading scanning performance for superior ergonomics and throughput, the 2300HS scanner demonstrates the Magellan brand renowned quality and reliability.
Technical Specifications :
FirstStrike advanced software decoding algorithms provide the industry's best scanning speed and simultaneously improve first pass read rates of damaged, wrinkled, or poorly printed bar codes delivering improved operational efficiencies at the retail checkout.Flash memory allows for easy software upgrades that help extend the life of the retailer's investment. In addition, an auxiliary RS-232 port can be utilized in a variety of ways, including adding a handheld scanner, programming and configuring the scanner, or accessing the scanners label data output. For applications requiring electronic article surveillance (EAS), the 2300HS can be equipped with Checkpoint® EAS and can support Sensormatic® EAS systems with good read acknowledgement via the auxiliary RS-232 port. Optional Value Added Features provide optional information tools that help decrease front-end costs by managing information on scanner software and diagnostics.