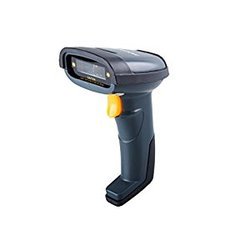 Mindware 1 D SC750 wired Scanner
Product Code:
Sc750
Company:
Mindware
Status:
In Stock
Product Description :
The Mindware SC750 is a high-end scanner which offers the maximum in data capture flexibility. This scanner is able to capture 1D,barcodes marked with the DPM technology.
Key Features :
Features ‧ High performance engine & decoder (1280 x960 sensor and reads 1D, 2D and direct part marking (DPM) barcodes. ‧ Direct Part Marking (DPM) – reads laser-etched, dot peen and laser-inked marking. ‧ Durable and rugged design: Long life trigger design, 1.8m drop spec and IP42 housing protection. ‧ Ergonomic and lightweight (170g) design for operator comfort. ‧ Trigger and presentation mode for hands-free or handheld operation (stand optional). ‧ Easy to use. High visibility illumination (2x white LED's). ‧ Supports reading various sized objects (60° skew/pitch angles).
Technical Specifications :
Other Specifications Form Factor - Hand Type - Corded Scan System - Laser Scan Rate - 300 Scans per second/ frames per second Scans per second/ frames per second Communication - Interface - Keyboard Wedge(PS/2) Print Contrast Ratio - 20 % Resolution - 4 mil mil Bar Code Density - 2 mil mil mil Minimum Depth Of Field - 5mm mm mm Maximum Depth Of Field - 630 MM mm mm Ambient Light Immunity - 022lux Lux Lux Light Source - 650nm laser diode nm nm Compatible Bar Code Symbologies: (UPC-A/UPC-E, EAN 13, JAN-13, CODABAR, ADD-ON-2, Code-93, Industrial Codes, Interleaved 2 Or 5, EAN 128 Etc.) Yes Compatible Bar Code Symbologies : ( Micro PDF, PDf-417, Data Matrix, QR Code/UCC, EAN Composites, Aztec Etc.) Yes Radio Interface Cradle Host Radio Communication Frequency - 3mhz MHz MHz Working Range - 1 meter meters Power Supply/Battery - power supply Housing Material Of Scanner - Reinforced Plastic Drop Resistance 5 ft Minimum Operating Temperature - 0 to 50 C Degree C Degree C Operating Humidity - (RH) 5 to 90 % IP Rating - usb BIS Registration No. - YES Safety Certifications - YES Overall Dimensions (LxWxH) - 7X6X16X120 Net Weight - 250 GMS kg Kg Warranty - 1 Year Availability Of Test Reports From Central Govt/NABL/ILAC Accredited Lab Showing Conformity To The Specifications yes Test Report No. yes Test Report Date yes Name Of Test Lab yes Address Of The Test Lab yes