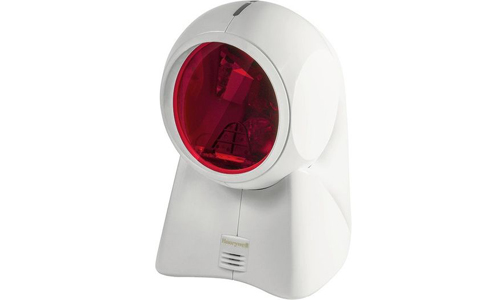 QuantumT 3580 Hands-Free Scanner
Product Code:
IBC-T 3580
Company:
Honeywell
Status:
Available
Product Description :
The Quantum T3580 hands-free scanner provides retailers with industry leading omnidirectional scan performance and optional single-line scanning in a compact form factor.
Key Features :
Small Footprint
Keeps valuable counter space clear.
Omnidirectional or Single-Line Modes
Alternate between 20 scan lines for omnidirectional scanning and a single scan line for menu
scanning.
Optional Stands
Customize the height of the scanner for unique applications. OPOS and JPOS Compatible
Easily adaptable to any end-user environment with OPOS and JPOS system compatibility
.
Technical Specifications :
MECHANICAL
Dimensions (LxWxH)
66 mm x 67 mm x 108 mm (2.6 in x 2.7 in x 4.3 in)
Weight
170 g (6 oz)
ELECTRICAL
Input Voltage
5 VDC ± 0.25 V
Operating Power
1.4 W (275 mA @ 5 V)
Standby Power
1.2 W (230 mA @ 5 V)
Host System Interfaces
USB, RS232, Keyboard Wedge, IBM 46xx (RS485), OCIA, Laser Emulation, Light Pen Wand Emulation
ENVIRONMENTAL
Operating Temperature
-20°C to 40°C (-4°F to 104°F)
Storage Temperature
-40°C to 60°C (-40°F to 140°F)
Humidity
5% to 95% relative humidity, non-condensing
Drop
Designed to withstand 1.5 m (5 ft) drops
Environmental Sealing
Sealed to resist airborne particulate contaminan
Light Levels
4842 Lux
SCAN PERFORMANCE
Scan Pattern
Omnidirectional: 5 fields of 4 parallel lines; Button activated single line
Print Contrast
35% minimum reflectance difference
Pitch, Skew
60°, 60°

Decode Capability
Reads standard 1D and GS1 DataBar symbologies
Warranty
3 year factory warranty