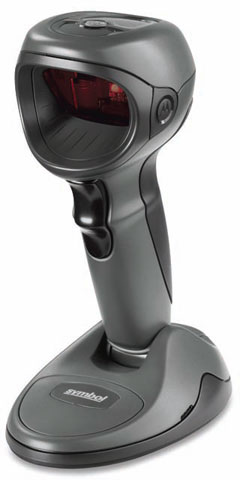 Symbol DS9808 scanner
Product Code:
DS9808
Company:
zebra
Status:
call us 9717122688
Product Description :
Achieve a new level of productivity and throughput at the checkout stand with the Symbol DS9808. Designed to deliver a new level of versatility, functionality and performance, the Symbol DS9808 features a one-of-a-kind hybrid form factor that provides superior comfort and ease of use in both handheld and hands-free scanning modes.
Key Features :
When it comes to scanning distance, the DS9808 sets a new level of flexibility. The standard range (SR) model can scan up to 10.5 in./26.7 cm away in handheld mode, while the long range (LR) model can scan up to 18 in./45.7 cm away — ideal when merchandise is too heavy or bulky to easily move out of the customer's cart.
THE SPEED YOU NEED
A swipe speed programmable up to 100 in./ 254 cm per second provides rapid fire scanning — a must in busy environments. With omnidirectional scanning, there is no need to take the time to orient barcode and scanner. And since the DS9808 can capture 1D and 2D barcodes on paper and mobile phones, there\'s no need to manually enter UPC codes.
BROAD RANGE OF APPLICATIONS
The adaptable DS9808 is at home in a wide variety of retail operations. For countries that utilize a PDF417 bar code on a national ID card or drivers' license, an embedded parsing agent can decode identification information, allowing retailers to use that information in a wide range of applications to improve productivity
Technical Specifications :
Zebra DS9808 Scanner SPECIFICATIONS
PHYSICAL CHARACTERISTICS
Dimensions
8 in. (max) H x 5.4 in. L x 3.4 in. W 20.3 cm (max) H x 13.7 cm L x 8.6 cm W
Weight
12 oz./340 g
Voltage and Current
Maximum: 5 VDC +/- 10% @ 450 mA Maximum (with optional RFID module*): 5 VDC +/- 10% @ 1.2
Color
Twilight Black
PERFORMANCE CHARACTERISTICS
DS9808-SR and DS9808-LR Imager Mode
Light Source
Aiming Pattern: 650nm laser diode Illumination: 630nm LED
Imager Field of View
39° H x 25° V
Roll/Pitch/Yaw
360°, ±65°, ±60°
Swipe Speed
Programmable up to 100 in./254 cm per second (Horizontal Read Rate)
Frame Rate
Up to 60 frames per second
DS9808-LR Laser Scanner Mode
Light Source
650nm LED
Scan Angle
40° ±3° nominal
SYMBOLOGY DECODE CAPABILITY
1D
UPC/EAN (UPCA/UPCE/UPCE1/EAN-8/EAN-13/JAN-8/JAN-13 plus supplementals,
ISBN (Bookland), ISSN, Coupon Code), Code 39 (Standard, Full ASCII, Trioptic), Code 128 (Standard, Full ASCII, UCC/EAN-128, ISBT-128 Concatenated), Code 93, Codabar/NW7,Code 11 (Standard, Matrix 2 of 5), MSI Plessey, I 2 of 5 (Interleaved 2 of 5 / ITF, Discrete 2 of 5, IATA, Chinese 2 of 5), GS1 DataBar (Omnidirectional,
Truncated, Stacked, Stacked Omnidirectional, Limited, Expanded, Expanded Stacked, Inverse),Base 32 (Italian Pharmacode)
PDF417 (and variants):
PDF417 (Standard, Macro), MicroPDF417 (Standard, Macro), Composite Codes (CC-A,
CC-B, CC-C)
2D
TLC-39, Aztec (Standard, Inverse), MaxiCode, DataMatrix/ECC 200 (Standard, Inverse), QR Code (Standard, Inverse, Micro)
Postal
U.S. Postnet and Planet, U.K. Post, Japan Post, Australian Post, Netherlands KIX Code, Royal Mail 4 State Customer, UPU FICS 4 State Postal, USPS 4CB, Canadian Post (Postbar)
Nominal Working Range (Handheld):
See chart on back
Nominal Working Range (Hands-free):
See chart on back
Minimum Resolution
Code 39 – 4 mil, UPC – 7.8 mil (60%), PDF417 – 5 mil, Datamatrix – 5 mil
*The RFID module is a future option for use with the DS9808-LR only and will not be available for all countries. Please contact your local Zebra representative regarding availability.
IMAGING CHARACTERISTICS
Graphics Format Support
Images can be exported as Bitmap, JPEG or TIFF
Image Transfer Speed
USB 2.0: Up to 12 Megabits/second RS-232: Up to 115 kb/second
Image Transfer Time
Typical USB application is ~0.2 seconds with a compressed JPEG of 100kb
Image Quality
120 DPI on a 4 x 6 in./10.2 x 15.2 cm document @ 6.5 in./16.5 cm
USER ENVIRONMENT
Operating Temp.
32° to 104° F /0° to 40° C
Humidity
5% to 95% RH (Non-Condensing)
Storage Temp.
-40° F to 158° F / -40° C to +70° C
Drop Specification
Withstands multiple 5 ft./1.5 m drops to concrete