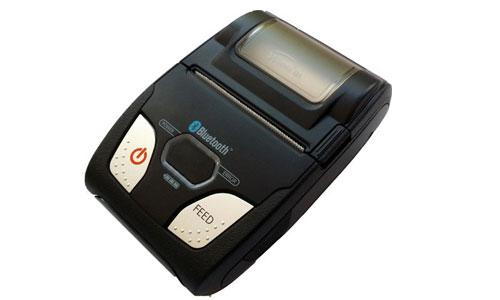 Woosim WSP R241 Mobile Printer
Product Code:
Company:
Status:
Product Description :
Compact Entry-Level (2" Mobile Printer) WSP-R241 The latest mobile thermal printer from New Delhi Printer draws on the aesthetics of their popular semi-rugged WSP R240 device. The WSP R241 is a single skin version of the original casing making it even lighter and its compact dimensions make it ideal for carrying on the belt, hand held or in a pocket. The standard sized 57/58 mm wide thermal rolls are very low cost and easily obtainable. The printer has a simple push button to open the cover and the easy load system means the new roll is simply dropped into place, the lid closed and it's ready to print! The WSP R241 has been launched with a USB and Bluetooth dual interface. Alternative interface versions will be announced later. In common with New Delhi Printers's range of other mobile printers, the R241 comes complete with high capacity Li-ion batteries as standard.
Key Features :
Pocket size (79.5X 114.3 X 43.5mm) • Light weight (201g) for true mobility. • High speed(100mm/sec, MAX) • High resolution(203dpi : 8dots/mm) • USB+Bluetooth Ver3.0 • Intuitive LED's indicate Power(on/off),Error, Bluetooth status, Battery status • Support Magnetic Stripe Reader [option] • Support text and graphic printing. • Easier paper loading by CLAMSHELL design. • One touch paper cover • 1.2m drop test
Technical Specifications :