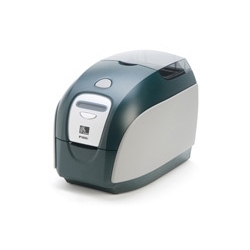 Supports and Downloads: Zebra P110i Card Printer
Zebra P110i
Zebra P110i Card Printer
Product Code:
IBCP110CP
Company:
Zebra
Status:
call us 9717122688
Product Description :
The innovative Zebra P110i brings unbeatable performance to space-contained work areas and budgets. The P110i is packed with features that make it the best value in its class. The high-quality 300 DPI resolution lets you produce vibrant, professional cards with ease and efficiency. With optional magnetic stripe encoders and Smart card capability, plus USB and Ethernet interfaces, the P110i is perfect for any application.
Key Features :
P110i set up your card printing system and begin producing full-color photo ids in minutes with the zebra quikcard id solution—no software expertise necessary. The feature- and value-packed kit includes everything you need to quickly, easily and cost-effectively make professional-quality identification, security and commerce-related cards. in addition to a zebra value class full-color, single-sided p110i or dual-sided p120i card printer, available with or without magnetic encoding, it contains exclusive zebra quikcard id solution software featuring zebra card design templates and template designer—making it exceptionally simple and fast to create custom cards. You also get a usb digital webcam for capturing id photos, and supplies for printing up to 200 cards. With this high-value and easy-to-use solution, even smaller organizations have the power to print cards with the uality and profes professional appearance required in today's market. Sional appearance required in today's market.
Technical Specifications :
Reliable, compact and easy to use, the P110i is Zebra's most affordable color card printer. The sleek design uses high-strength plastics and advanced electronics for reduced size and weight and outstanding performance, all at a great price. The Load-N-Go ribbon cartridge with i Series auto ribbon detection and integrated card cleaning roller automatically configures for improved performance, and provides a low-ribbon warning indicator. An LCD screen provides printer information for ease of use. For printing employee or student IDs, as well as membership or gift cards, the P110i is versatile and cost-effective, and delivers consistent, high-quality printing, all with the trusted Zebra dependability.