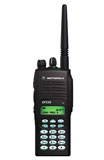 GP338
Product Code:
Company:
Status:
In stock
Product Description :
The GP338 is essential for growing organisations because of its unique versatility. When necessary, the radio can easily be programmed in the field to add or delete features. So, whether it's the harsh environment of a construction site or the posh elegance of an exclusive hotel, the radio of choice is the GP338. It's the radio that grows with you. Ideal when you need:
Key Features :
To communicate frequently with multiple work groups.
To be on the move outdoor most of the time.
To communicate in a high-noise environment.
To co-ordinate law enforcement and emergency.
Constant up-to-the-minute information.

GP338 provides following facility.
PTT-ID: Every time the PTT button is pressed, a unique ID is sent. This allows the dispatcher to identify which radio is transmitting.
Call Alert: If your call to a radio is unanswered, you can leave a page for that person. The radio emits an alert tone until a response is made.
Voice Selective Call: The radio receives an individual or group voice message with an alert to indicate that it is a selective call.
Radio Check: Auto check if radio is operating or within range.
Selective Radio Inhibit: Radio can be disabled over the air from control system preventing unauthorized usage of stolen or lost radio.
Technical Specifications :
Performance Characteristics
Battery life (based on a 05/05/90 duty cycle)
8 hours (High Power), 10 hours (Low Power) - With Standard Hi- Capacity NiMH battery
Frequency range
136 - 174 MHz /330 - 400 MHz (available in 16 channels only) / 403 - 470 MHz / 450 - 527 MHz
Power output
5W - 136 - 174 MHz, 4W - 403 - 470 MHz, 450 - 527 MHz
Physical Characteristics
Keypad
Yes
Display
Yes
Emergency button
Yes
Weight (with standard battery)
428gms (with standard NiMH battery)
Dimensions H x W x D (with standard battery)
137 mm x 57.5 mm x 37.5 mm ( With Standard NiMH battery)
Available option board
Yes
Radio Features
Signalling
Quick Call II, DTMF, limited MDC1200
Number of channels
128
User Environment
Mil spec
810 C, 810 D, 810 E
Intrinsically safe
No