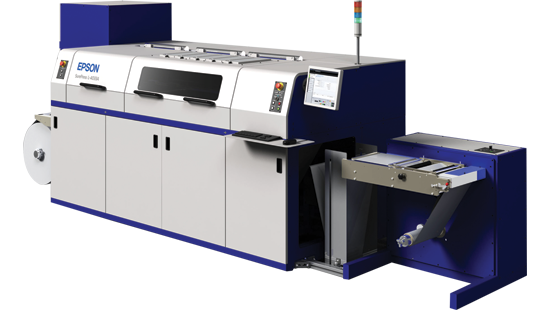 SUREPRESS L-4033A DIGITAL LABEL PRESS
Product Code:
Company:
Status:
Product Description :
Makes short-run label printing more efficient and profitable, with even higher quality
Enjoy low total cost of ownership while reaping the benefits of Epson's renowned colour quality to quickly produce outstanding printouts up to 64-inch wide for a suite of indoor and outdoor commercial applications.
Epson SurePress AQ Inks
Micro Piezo™ multi-print head array
Dual drying system
Automatic colour management
Key Features :
Features:
Expand Your Short-Run Printing Capabilities
With the SurePress L-4033A, you're ready to handle all the short-run printing your customers need for sales promotions. They'll appreciate the quick turnaround and high quality, and you'll benefit by being able to offer them more versatile printing solutions, even for shortterm promotions.
Micro Piezo® for Precise Prints
SurePress leverages Epson's advanced Micro Piezo® inkjet technology, synonymous with high quality output, reliability and high cost-performance. Using piezoelectric technology, the amount of ink pulled into and expelled out of the nozzles can be very accurately controlled by varying the electrical charge applied to the piezoelectric elements. This enables the print head to eject ink droplets in a range of precisely controlled sizes. Micro Piezo® delivers accurate dot shapes and placement for each colour to ensure highend colour quality and sharp detail needed especially for barcodes and small text.
Industrial Inks with Wide Colour Gamut
The newly-developed Epson inks come with water-based pigment ink set featuring six to seven colours including Green and Orange for an extra-wide colour gamut, enabling accurate colour reproduction for precise colour matching and excellent adhesion on a wide variety of standard label stock substrates without the need for any pre-processing.
Superb Convenience
Epson SurePress setup is quick and easy, without the need of skilled operators. The pre-press process does not require chemicals or plates. With digital printing, adjustments during print runs are no longer required. Maintenance is kept minimal, bringing lesser downtime. This brings a faster and more efficient workflow, enabling a higher number of short-run jobs. Given its low initial and operating costs, your profitability is significantly increased.
Easy Maintenance
Minimal maintenance requirements save you time and money. The simple mechanism is easy to access and maintain. Best of all, with fuss-free ink cartridge replacement features, there is no need for time-consuming maintenance tasks (cleaning, blending, etc).
Superior Water and Light Resistance
SurePress AQ ink contains special resin that forms a coating on prints, creating a glossy surface, which increases water and light resistance of the prints. With this special feature, SurePress can offer labels on a wide range of products such as beverage bottle or can, kitchenware, dishwashing detergent and bathroom accessories.
Drastically Reduced Waste Substrates
Test printing is unnecessary now that SurePress offers quick colour matching and stable print quality. Additionally, its foreign object sensors and auto skew correction function ensure stable and accurate substrate feeding. These SurePress features enable reduced waste substrates.
Use up Leftover Substrate Rolls
Compact SurePress is a great solution for small lot orders. You can reuse thin rolls of substrate remains from large-lot printing. Using both the analogue printing presses and SurePress save substrate.
Quick and Easy Spot Colour Matching
Your desired spot colour can be obtained in a short time effortlessly. Simply measure a colour sample or chip using a colorimeter for the Epson tool to create a colour chart. Then print it on SurePress and select a colour that best matches your sample before entering the colour code to your RIP.
Efficient Colour Proofing with Customer
SurePress allows you to easily create different variations of colour proofs without using films and plates. Customers can choose their preferred colour from these variations, without you having to send colour proofs over and over again.
Technical Specifications :