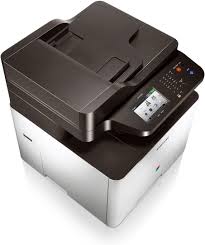 SAMSUNG CLX-4195FW
Product Code:
MI4195FWSLP
Company:
Samsung
Status:
In Stock
Product Description :
With the CLX-4195FW every business can now boost its performance
Key Features :
With the CLX-4195FW every business can now boost its performance and start a new way of communication. Create professional-looking colour documents at impressive speeds with this easy to operate and economical small workgroup device. With 4-in-1 versatility, the Samsung CLX-4195FW printer streamlines workflow and ensures that the office print operation is working as efficient as possible. With print, copy, scan and fax functionality, the CLX-4195FW offers flexibility and lets you work with less barriers. A host of innovative features like ID Copy, N-up copy, Scan-to-email and the convenient PC fax functionality ensure that your workforce has the necessary functionality needed to thrive in the modern world of business. Whatever size your team, and however busy you are, you can rely on the CLP-4195FW to constantly deliver professional, quality colour output. Because anything less isn't good enough.

Make sharp images and text even sharper
Boost the overall quality and vividness of your output with our unique ReCP (Rendering Engine for Clean Pages). It automatically adds dots along the edges of images and characters, meaning everything look so much sharper and cleaner. What's more, those white gaps between colored areas that are so common with other devices are eliminated. What you and your team are left with is an outstanding color output.
Technical Specifications :
The Samsung Easy Colour Manager allows you to adjust the colour balance, saturation, brightness or contrast of any image prior to printing. Perfect for matching the exact colours of your company logo every time.Accelerating your business' productivity begins with your printer. With its 18/18 pages per minute output and a first page out time of just 17 seconds the CLX-4195FW doesn't let you down.
With the power of two cores the device can process your work files simultaneously and therefore with higher speeds. The 256MB memory ensures even heavy printing documents are spooled faster and you don't have to wait long for your print outs. What all this means for you is simple: The CLX-4195FW is perfect when there's a lot to print and a tight deadline to meet. Just one touch of the WiFi Protected Setup (WPS) button and your CLX-4195FW will connect quickly and securely to your wireless network. And with our easy 3 step mobile printing application enjoying vibrant colour output from all your mobile devices is then easier than ever.
Thanks to the latest technology and high quality components, you'll find the CLX-4195FW is as dependable as they come, even during the toughest print jobs. We've developed our reliable Anti-Jam friction roller to minimise the risk of mis-feeds and paper jams. Better still, it allows handling of heavier paperweights, including card, up to 220g/m2 from the standard cassette tray. Be in control of your printing cost during the printer's entire time of operation. Low costs per page that keep your running costs low for the time you do business.