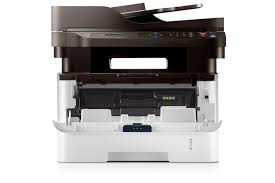 Samsung SL-M2876FD
Product Code:
MIM2876FDSLP
Company:
Samsung
Status:
In Stock
Product Description :
Samsung M2876FD Series gives you the speed you need to be more productive
Key Features :
Samsung M2876FD Series gives you the speed you need to be more productive, but there's no compromise on quality. What's more, thanks to mobile printing and Easy Printer Manager software, these printers are also designed to be easy to use. However demanding your professional printing needs, a Samsung M2876FD Series gives you great results – fast. Save time by printing even complex documents at speeds of up to 28 pages per minute (PPM) thanks to a powerful 600MHz processor and 128MB of memory. With the Cortex-A5 Core, it's up to 25.6% faster than earlier models, making it one of the fastest printers in its class. That means it helps you to work faster, be more flexible and more productive. Your Samsung M2876FD Series delivers sharp, clear prints that are sure to make a big impact. Thanks to its 4800 x 600 dpi effective resolutions and Rendering Engine for Clean Page (ReCP) technology, you can enjoy higher performance and quality without the need for a bulky larger printer. What's more, quality-boosting features give you more detail, smoother images and clearer text.
High-resolution printing
Even complex images and small text are delivered in fine, detailed prints, thanks to high-resolution print quality up to 4800 x 600 dpi effective. Enjoy clearer text and more vivid images thanks to edge enhancement, which gives them a far more polished and well-defined edge. With your Samsung M2876FD Series, superior-quality copies and scans are now a reality. Great performance means fine text and images are sharper, delivering much more legible text and vibrant, smooth images. Samsung M2876FD Series ensure thin lines and small text are captured when scanning or copying. De-Integrated Cavity Effect (De-ICE) technology maximizes the amount of text that is captured, delivering higher-quality prints and scans. With a Samsung M2876FD Series, you can remove halftone patterns on images and enjoy the clear and smooth images you need for truly pro-fissional print results.
Technical Specifications :
Print with more paper types for all kinds of uses
Whatever you need to print, your Samsung M2876FD Series can handle it. The small but robust printer can use a range of media up to 220 grams per square meter (gsm), including paper, labels, cards, envelopes and overhead projector (OHP) transparencies. You can easily select the paper type you need from the multipurpose (MP) tray, so it's convenient as well as flexible.
Cut costs with Separated Toner System
With Samsung's Separated Toner System, the toner cartridge and imaging unit are supplied separately. This means you only need to buy the toner cartridge when it's empty, so the overall cost of running the printer – and the cost per page – is reduced. Installation is also easy, so you can spend less time maintaining your printer as well as less money. You can balance your budget as well as meet all your printing needs.
Monitor and manage your printer easily
Samsung's Easy Printer Manager lets you look after your printer's settings, device status, supply ordering and faxing – all in one place. You can conveniently see error reports and monitor the status of your printer and its supplies, as well as manage settings remotely. It's all provided in one single interface that brings together all your Samsung Printer's settings and applications.