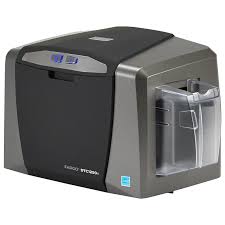 Fargo DTC4250e Card Printer
Product Code:
MI4250ECP
Company:
Fargo
Status:
call us 9717122688
Product Description :
Fargo DTC4250e Card Printer The Fargo DTC4250e is featest, robust and reliable Card Printer. Designed for medium-sized businesses, schools and local government institutions seeking versatility in a convenient, professional and secure printer/encoder system, the Fargo DTC4250e is ideal for flexible, easy and reliable color printing and encoding of technology cards.
Key Features :
Indian Barcode Corporation, is one of the leading company in the field of Card Printing Solution in India. The DTC4250e also features new security enhancements, such as the embedded iCLASS SE smart card encoder for encoding organizational or personnel data directly onto the card and AES-256 data decryption for protection of financial information. The DTC4250e can also be password protected so only approved operators can print and encode security cards and visitor badges.

With its small footprint, an optional, same-side input/output hopper and an optional Wi-Fi® accessory that allows you to print anytime and anywhere, the DTC4250e consumes minimal space and offers maximum flexibility. The printer is also fully compatible with Asure ID® Card Personalization Software for creating custom credentials and Color Assist™ software that can help you match spot colors, ensuring accurate reproduction of such complex graphics as company logos or employee photos.
Technical Specifications :
From plastic loyalty and photo ID cards to more sophisticated access cards with embedded electronics, HID Global's professional-grade FARGO® DTC4250e card printer / encoder is able to produce large quantities of extremely durable credentials both quickly and easily. Ideal for small to mid-size businesses, schools, and local government agencies that require reliable printing, the DTC4250e features a flexible and modular design that can be easily adapted whenever your organization grows or your printing needs change.
Side Printing: Single or dual
Print Method: Dye-sublimation / resin thermal transfer
Resolution: 300 dpi
Print Speed: 16 seconds per card / 225 cards per hour (YMCKO)
Included Software: Embedded Swift ID® badging application and FARGO Workbench™ printer maintenance and diagnostic software with Color Assist™ spot-color matching
Data protection: AES-256 encryption on the printer over a secure network
Card capacity: 100 card input, 100 card output, 100 card reject with same-side input/output hopper.