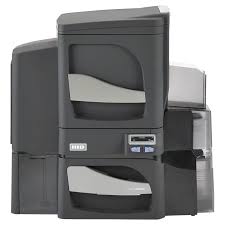 Fargo DTC4500e Card Printer
Product Code:
MI4500ECP
Company:
Fargo
Status:
call us 9717122688
Product Description :
Fargo DTC4500e Card Printer The Fargo DTC4500e is featest, robust and reliable Card Printer. The versatility of the Fargo DTC4500e is unsurpassed. Driven by an extremely robust and reliable print engine, this high-volume printer delivers speed, power and versatility rolled into one.
Key Features :
Indian Barcode Corporation, is one of the leading company in the field of Card Printing Solution in India. With the FARGO® DTC4500e, you get professional quality, full-color credentials. Designed for medium-to-large sized organizations, schools, and government institutions looking for reliable, long-term solutions. HID Global's professional-grade DTC4500e card printer/encoder withstands the daily demands of high-volume printing. Additional security features – such as password protection and data decryption, locking dual-card hoppers for managing different card stocks, and optional holographic or fluorescent (UV) overlaminates that dramatically increase card durability – also make this the ideal choice for organizations in need of advanced card protection and performance.

The DTC4500e features a modular design empowering you to add, at any time new functionality as the needs of your organization evolve. For example, an optional dual-sided, printing module can add company- or employee-specific information to the back of a card, such as when a bar code or digital signature is also desired. For production of highly-secure cards that resist forgery and feature increased durability, select either single- or dual-sided holographic image lamination, or go with an embedded iCLASS SE® encoder to streamline the creation, encoding, and management of your physical access smart cards from start-to-finish. Also available, the Wi-Fi® accessory enables you to print cards anytime and anywhere, over any secured wireless network.
Technical Specifications :
The DTC4500e is fully compatible with HID Global's Asure ID® Card Personalization software which allows for the creation and encoding of custom employee or contractor ID cards, as well as HID Global's EasyLobby® Secure Visitor Management solutions which is a perfect solution for developing visitor badges easily and on demand.
Specifications:-
Side Printing: Single or dual
Print Method: Dye-sublimation / resin thermal transfer
Resolution: 300 dpi
Print Speed: 16 seconds per card / 225 cards per hour (YMCKO)
Included Software: Embedded Swift ID® badging application and FARGO Workbench™ printer maintenance and diagnostic software with Color Assist™ spot-color matching
Data protection: AES-256 encryption on the printer over a secure network
Card capacity: 200 card input (with dual input hopper), 100 card output.