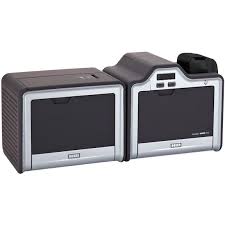 Fargo HDPii Plus Card Printer
Product Code:
MIHDPIICP
Company:
Fargo
Status:
call us 9717122688
Product Description :
Fargo HDPii Plus Card Printer The Fargo HDPii Plus is featest, robust and reliable Card Printer. The Fargo HDPii Plus Financial Card Printer/Encoder makes instant issuance practical and affordable for a wide range of financial cards, and helps you deliver an outstanding customer experience with speed, convenience and security.
Key Features :
Indian Barcode Corporation, is one of the leading company in the field of Card Printing Solution in India. The next generation FARGO® HDPii Plus Card Printer/Encoder prints and encodes the newest generation of financial cards with no embossed text and, increasingly, a contact or contactless smart chip inside. By giving institutions the ability to create a personal connection by physically handing custom cards to customers, the HDPii Plus Financial Card Printer/Encoder raises customer service and loyalty to a new level. Personalization helps to dramatically lessen the time to the first card transaction. Attract new customers and build your business with highly customized designs for credit, debit, prepaid and retail gift cards. High Definition Printing™ (HDP®) retransfer technology prints photo-quality continuous-tone images over the card edge with vibrant colors and sharp text and graphics. Card images are sealed on the underside of HDP Film for increased durability and fraud protection, and replicate the look of preprinted cards.
Technical Specifications :
Optionally avaliable, High Durable HDP Film improves abrasion resistance by three times, enabling the HDPii Plus Card Printer/Encoder to produce longer lasting, more durable instantly issued cards.

Key features of the next-generation HDPii Plus Card Printer/Encoder include:
Dual-sided card printing and both ISO magnetic stripe and EMV encoding
Elevated data security through AES256 data encryption and resin ribbon erase functionality
Lockable security housing and concealed output hopper comply with financial card association security requirements
Industry-leading, three-year warranty for greater peace of mind
Optional, dual card input hopper with 200 total card capacity simplifies management of multiple card types
Bright LED display offers status information in multiple languages
Optional High Durable HDP Film offers greatly enhanced card durability
FARGO Workbench® v3.0 diagnostic utility now provides enhanced graphics capabilities with Color Assist spot-color matching tool, and simultaneous firmware upgrade capability for networked printers
Cartridge-based card handling simplifies reloading or changing card stock; high-yield ribbon and film cartridges load quickly
USB and Ethernet connectivity included, plus an internal print server for secure network printing