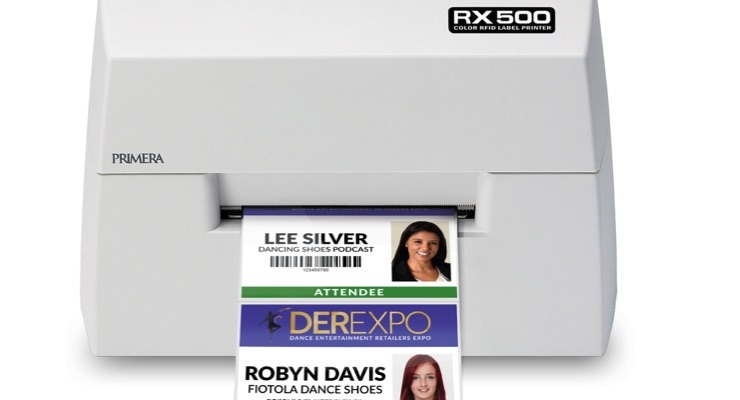 Primera RX500 Color RFID Label & Tag Printer
Product Code:
RX500
Company:
Primera
Status:
In Stock
Product Description :
RX500 is the only desktop full-color RFID label and tag printer that's fully integrated. It utilizes the latest in ultra high-resolution color inkjet technology to produce labels and tags at speeds of up to 2.5" (63.5mm) per second and up to 4.25" (108mm) wide. Built-in, automatic RFID encoding makes it ideal for applications that need both color and RFID, including file folders, asset tracking, retail & apparel tags, data storage tapes, lab specimens, wristbands, identification and visitor badges, pharmaceuticals and much more
Key Features :
Primera Rx 500 Color Labels Printer Features  Built-in UHF reader/encoder from Honeywell® – for reliable, consistent reading and writing of RFID inlays. 4800 dpi print resolution – produces true photo-quality output along with ultra-sharp text, full-color graphics and high-resolution linear and 2D bar codes. Single, high capacity ink cartridge – allows you to simplify inventory management and print head maintenance. Adjustable antenna position and variable gain – allows radio signals to be perfectly read and encoded on a single label at a time with no overbleeding. Many substrates available – including water-resistant paper, polyester and polypropylene. Small footprint and light weight – save desktop space and transport RX500 with ease. Compatible with Windows® 7/8x/10+ – allows easy integration with industry standard and custom third-party software solutions.
Technical Specifications :
Print Method: Inkjet Print Resolutions: 4800 x 1200 dpi, 1200 x 1200 dpi, 600 x 600 dpi Ink Cartridge: Color (CMY) Colors: 16.7 million Color Matching: Z-Color™ Color Matching Software Print Width: 0.75 (19mm) to 4 (101.6mm) Print Length: 0.75 (19mm) to 24 (609.6mm) Media Width: 1 (25.4mm) to 4.25 (108mm) Media Types: Roll-fed pressure-sensitive labels, roll-fed tags, fan-fold labels or tags Media Sensing: Moveable see-through sensor for die-cut labels; Reflective for labels and tags with black stripe; Continuous label stock; Preprinted label stock. Supply Roll: 5 (127mm) maximum diameter on 2 (50.8mm) core. Core has additional restrictions - see manual. Ink Level Warning: Calculates actual number of prints remaining based upon ink usage of graphics being printed (patent-pending) Indicator Lights: Power, Ink Controls: Pause, Load/Feed, Unload Operating Systems: Windows® 7/8/10+ Mac OS X 10.9+ Recommended Minimum System: For PC: Pentium® IV computer or better, 512MB RAM, 5GB free hard drive space, USB port For Mac: 1 GHz Intel processor or higher, capable of running Mac OS X v10.7 or higher, 1GB RAM, one available USB port Label Design Software: BarTender UltraLite Primera Edition included for PC Only. Can also be used with most other popular label design and graphics software programs. Electrical Rating: 12VDC, 5.0A Power Requirements: 100-240VAC, 50/60 Hz, 60 watts Certifications: UL, UL-C, CE Weight: 7.0 lbs. (3.2 kg) Dimensions: 10.4W x 15.3D x 7.1H (closed), 17.4(open) 264mmW x 389mmD x 180mmH (closed), 442mmH (open) Options: Ink Cartridge, Tri-Color #53374 or #53376(slower speed). LX500 #74273 LX500c #74275 (w/ cutter) Included: Bartender Ultralite software for Windows, 4"X3" Tuffcoat™ High-Gloss Paper starter roll and starter tri-color cartridge.