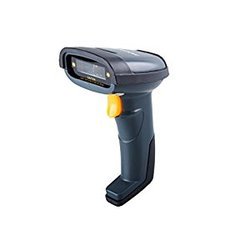 Mindware 1 D SC760 wired Scanner
Product Code:
SC760
Company:
Mindware
Status:
In Stock
Product Description :
The Mindware SC760 is a high-end scanner which offers the maximum in data capture flexibility. This scanner is able to capture 1D,barcodes marked with the DPM technology.
Key Features :
Features ‧ High performance engine & decoder (1280 x960 sensor and reads 1D, and direct part marking (DPM) barcodes. ‧ Direct Part Marking (DPM) – reads laser-etched, dot peen and laser-inked marking. ‧ Durable and rugged design: Long life trigger design, 1.8m drop spec and IP42 housing protection. ‧ Ergonomic and lightweight (170g) design for operator comfort. ‧ Trigger and presentation mode for hands-free or handheld operation (stand optional). ‧ Easy to use. High visibility illumination (2x white LED's). ‧ Supports reading various sized objects (60° skew/pitch angles).
Technical Specifications :
Other Specifications Form Factor - Hand Type - Corded Scan System - Laser Scan Rate - 300 Scans per second/ frames per second Scans per second/ frames per second Communication - Interface - Keyboard Wedge(PS/2) Print Contrast Ratio - 20 % Resolution - 4 mil mil Bar Code Density - 2 mil mil mil Minimum Depth Of Field - 5mm mm mm Maximum Depth Of Field - 630 MM mm mm Ambient Light Immunity - 022lux Lux Lux Light Source - 650nm laser diode nm nm Compatible Bar Code Symbologies: (UPC-A/UPC-E, EAN 13, JAN-13, CODABAR, ADD-ON-2, Code-93, Industrial Codes, Interleaved 2 Or 5, EAN 128 Etc.) Yes Compatible Bar Code Symbologies : ( Micro PDF, PDf-417, Data Matrix, QR Code/UCC, EAN Composites, Aztec Etc.) Yes Radio Interface Cradle Host Radio Communication Frequency - 3mhz MHz MHz Working Range - 1 meter meters Power Supply/Battery - power supply Housing Material Of Scanner - Reinforced Plastic Drop Resistance 5 ft Minimum Operating Temperature - 0 to 50 C Degree C Degree C Operating Humidity - (RH) 5 to 90 % IP Rating - usb BIS Registration No. - YES Safety Certifications - YES Overall Dimensions (LxWxH) - 7X6X16X120 Net Weight - 250 GMS kg Kg Warranty - 1 Year Availability Of Test Reports From Central Govt/NABL/ILAC Accredited Lab Showing Conformity To The Specifications yes Test Report No. yes Test Report Date yes Name Of Test Lab yes Address Of The Test Lab yes. We are manufacture of Barcode scanner.