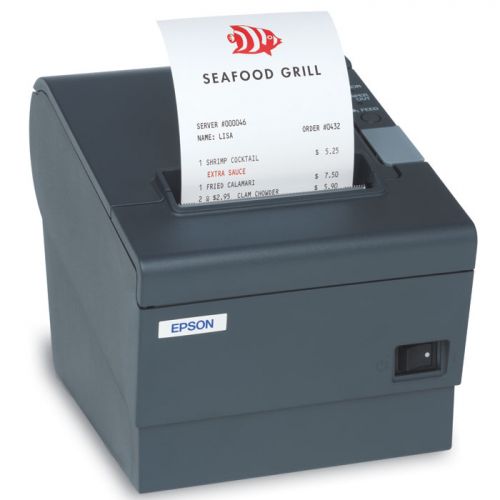 EPSON TM-T88IV
Product Code:
MIETMT88RP
Company:
Epson
Status:
call us 9717122688
Product Description :
Epson TM-T88IV offers a faster printing speed with high quality of label printing at a reasonable cost. With this we can print the graphics and the company logo on the receipts. It provides the ease of label loading and printing is done on the thermal paper.
Key Features :
Epson TM-T88IV offers 25% faster printing speed of up to 7.9" per second than its predecessor. Now with 200mm per second print speed, you can increase your business efficiency by reducing customer waiting time and improving customer satisfaction.You can now print your company logos and even graphics on the receipt roll with the enhanced graphic capability. No more hassle with your receipt printer, Epson-TM88IV features easy drop-in paper loading, long-lasting autocutter, full auto status back reporting.
Technical Specifications :
PRINT:-
Data Buffer--4 Kbytes or 45 bytes,Flash memory 256 Kbytes
Characters Per Inch--25cpi / 18cpi
Paper Dimensions--Thermal roll paper: 79.5 +/- 0.5 x dia 83.0 mm
Character Size--0.99 W x 2.4 H / 1.41 W x 3.39 H mm
Paper Thickness--0.06 to 0.07
Print Speed--Standard: 200 mm / sec ,Barcode printing: 100 mm/s,2-colour printing: 100 mm/s,Low-power mode: 150 mm/s
Interfaces--RS-232C / Bi-directional parallel / RS-485 / USB / 10 Base -T I/F
Bar Codes--UPC-A, UPC-E, JAN8 (EAN8), JAN13 (EAN13),,CODE 39, CODE 93, CODE 128, ITF, CODABAR.
Print Fonts--9 x 17 / 12 x 24
Characters Set--95 Alphanumeric, 32 International, 128x7 graphics,,Traditional/Simplified Chinese, Thai, Japanese,,Korean
Paper Type--Thermal roll paper
Weight--Approx 1.8 Kg
Dimensions--145 W x 195 D x 148 H mm