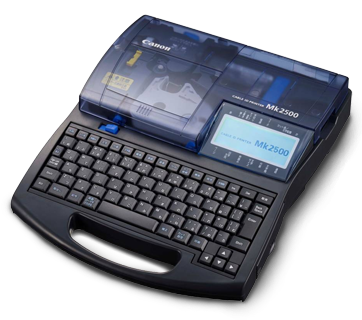 MK2600 Ferrule Printer
Product Code:
IBCMK2600
Company:
Canon
Status:
In-Stock
Product Description :
Ferrule Printer MK2600 By Canon
Key Features :
Specifications for MK2600
Printing Method
Thermal transfer
Resolution
300dpi
Printing Speed
Tubes:
High speed: 40mm/sec.
Middle speed: 25mm/sec.
Low speed: 18.5mm/sec.
Labels:
High speed: 40mm/secs.
Middle / Low speed: 25mm/secs.
Output Rate
High speed:
About 42pcs./min.
Middle speed:
About 35pcs./min.
Low speed:
About 30pcs./min.
Printing 20mm tubes, 5 full-size characters, consecutive print mode, half-cutting.
Ink Ribbons (Exclusive cassette)
Black:
100m
White:
85m
Black for Marking Strip:
40m
Character Sizes
1.3mm (only full-width available), 2mm, 3mm, 6mm (full-width, half-width available for each)
Input Modes
Alphanumeric, symbol input
Display
LCD Graphic (160 x 64 dots)
Display Capacity
10 characters/line x 2 lines (full-width) or 
20 characters/line x 2 lines (half-width) (3 lines editing is possible.)
Built-in Memory
Print-data:
Approx. 2,500 characters
Files:
Approx. 15,000 characters
Service life of internal backup battery for data storage:
About 5 years
Media Cutting Method
Automatic full-cutting, Automatic half-cutting
Power Supply
Exclusive AC Adapter
Input voltage:
AC 100V - 240V 50 / 60Hz
PC Interface
USB2.0 Full-Speed, Exclusive PC Connection Kit (Included)
Operating Environment
15°C - 32.5°C (59°F - 90.5°F), 
10% - 85% RH 
Range is lowered to 5°C (41°F) with Tube Warmer option installed
Storage Environment
5°C - 35°C (41°F - 95°F), 
10% - 90% RH
Dimensions (W x D x H)
250 x 300 x 85mm (9.8 x 11.8 x 3.4in.)
Weight
2kg (4.4lb.) (printer only)
Tube
PVC tube, φ 2.5 - 6.5mm, 0.5mm thick 
Tube attachment option is required (Other tubes should be tested for printing.)
Label Tape (Exclusive cassettes (White, Yellow, Silver))
Width:
6mm, 9mm, 12mm
Length:
30m (Silver: 27m) 
Segment length can be set to 2mm through 150mm
Wrap Around Tape: Exclusive cassettes
Print area only:
White
Other areas:
Transparent
Take-up length:
8m
Length:
33mm
Width:
6 - 150mm (depends on cut setting)
Marking Strip Specified thickness
0.5mm
Plates of other thickness should be tested for printing
Width:
8mm, 8.5mm, 9mm, 9.5mm, 10mm
Plate Attachment option is required
Exclusive ribbon cassette is required
Manual cut only
Heat Shrink Tube
Shrink tube:
φ 3.0 - 6.4mm
Tube attachment option is required. 
(Other tubes should be tested for printing.)
4mm ID Strip (Exclusive Cassette (White, Yellow))
Width:
4mm
Length:
5m
Segment length can be set to 8mm through 150mm
Technical Specifications :
The MK2600 prints precise characters of up to 300dpi for tubes, labels and more. With a large LCD display and automatic full and half-cutting, it offers smooth and easy printing from start to finish.
Character sizes: 2, 3, 6mm

Print speed (tubes): up to 240cm per minute

Standard output rate 42pcs./min.* 
*20mm tube, 5 full-size characters, consecutive print mode, fast cutting