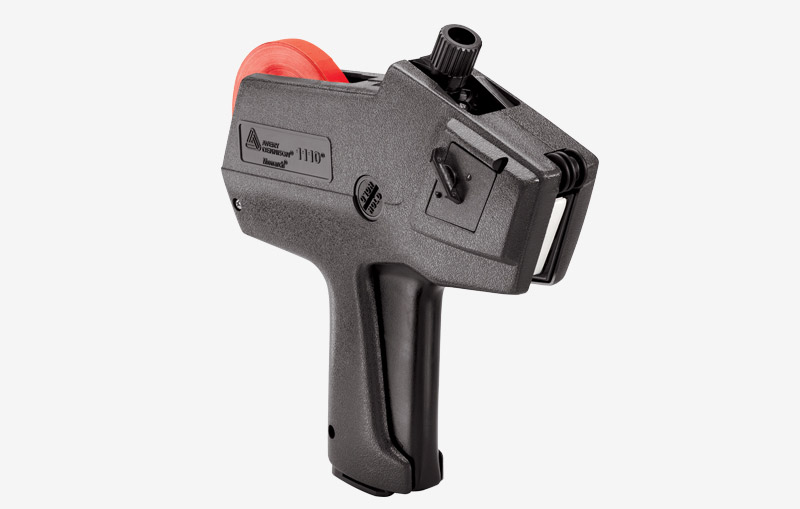 Monarch 1110
Product Code:
MI1110HL
Company:
Monarch
Status:
In-Stock.
Product Description :
The Monarch® Model 1110-05 Label Price Gun is one of the most longstanding and popular pricers on the market. Its design has improved since we began selling it over 25 years ago yet still maintains a similar look, except for its color change from yellow to dark gray. The Monarch® Model 1110-05 prints 8 digits on a ¾" wide x 3/8" tall label. Stock and custom Printed labels made to fit the Monarch® Model 1110-05 come in rolls of 1063 labels with 16 rolls per sleeve and an extra ink roller
Key Features :
The most popular price marking labels are the Monarch 1110 or A0001 made by Monarch The easy to learn and use pricing gun is partially the reason for this, but it is mostly to do with cost. The Monarch 1110 labels and guns are relatively cheap and while they do not offer as many options and customizations as other pricier price marking label lines, they are the industry standard for retailers simply trying to price an item.
The Monarch 1110 price marking label gun has been around for over 30 years and still going strong. It started out in a golden shade, but is now sold in a dark gray. This one line price marking label gun is known in the price marking industry as the most user friendly easy to use label gun. It is built for a long lifetime of price marking and doing what it does with precision and with ease.
The Monarch 1110 price marking can:
print up to 8 characters on one line
mark an 18 item case in 5 seconds
price items over $100 with raised/underlined cents
label promotional pricing such as 2 for 1 and date and time
custom bands to enable alpha characters are also available.
Technical Specifications :