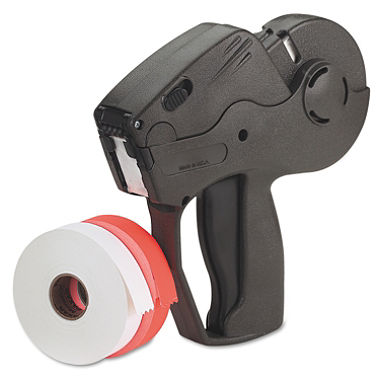 Monarch 1131
Product Code:
MI1113HL
Company:
Monarch
Status:
In-Stock.
Product Description :
The Monarch 1131 pricing gun is the perfect product for people looking for an affordable pricing gun that is easy to use. The Monarch 1131 price gun is total-view access gives users the ability to easily load and print labels. This product is ability to efficiently create high-quality labels makes it a must have for any manufacturer or retailer that needs to create a high volume of labels in a short amount of time. The Uline h-991 is the same tool.
Key Features :
The Monarch® Crown Series 1131 is a Labeler with a large label capacity. This Labeler holds up more labels so you spend less time loading your Labeler and more time pricing - you get the products to the selling floor faster. Monarch 1130 labelers are used for Efficient, Easy Pricing.
he Monarch 1131 pricing gun can be used by following these easy instructions.
Open the top half of the price gun to expose the roller.
Load the label roll, and then pull a strip through the front of the gun.
Close the Monarch 1131 pricing gun.
Pick off about 10 labels from the backing paper.
Feed backing paper through the opening on the front of the tool.
Click hand trigger until printed labels come out of the gun.
Technical Specifications :