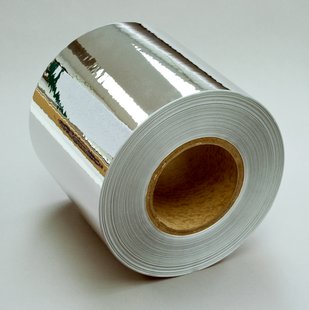 3M Bright Silver Polyester TC
Product Code:
IBC3M7025
Company:
3M
Status:
In-Stock
Product Description :
Bright Silver Polyester Facestock offers thermal stability and moisture resistance. Topcoated for thermal transfer and flexo printing.Acrylic adhesive offers eco-friendly alternative to solvent acrylic adhesives. Very good peel performance on high and smooth low surface energy substrates.
Key Features :
| | |
| --- | --- |
| Brand‎ | 3M‎ |
| Color‎ | Silver‎ |
| Face-Side Adhesive Thickness‎ | 0.9 mil‎ |
| Face-Side Adhesive Type‎ | P1400 High Performance Acrylic‎ |
| Facestock‎ | Polyester‎ |
| Facestock Color‎ | Silver‎ |
| Facestock Finish‎ | Bright‎ |
| Industries‎ | Converter Solutions‎ , Transportation‎ , Specialty Vehicle‎ , Automotive‎ , Medical‎ , Military & Government‎ , General Industrial‎ , Electronics‎ , Consumer Goods‎ , Packaging‎ |
| Length‎ | 1668 Linear Foot‎ |
| Length (Metric)‎ | 508.4 m‎ |
| Liner Thickness‎ | 3.2 mil‎ |
| Liner Type‎ | Super Calendered Kraft‎ |
| Liner Weight‎ | 50 lb.‎ |
| Maximum Operating Temperature (Fahrenheit)‎ | 302 Degree Fahrenheit‎ |
| Minimum Operating Temperature (Fahrenheit)‎ | -20 Degree Fahrenheit‎ |
| Moisture Resistance‎ | High‎ |
| Permanent Adhesion to‎ | Metal‎ , HSE Plastic‎ , LSE Plastics‎ |
| Plasticizer Resistance‎ | Medium‎ |
| Print Method‎ | Flexo|Thermal Transfer‎ |
| Product Form‎ | Roll‎ |
| Solvent Resistance‎ | Medium‎ |
| Topcoat‎ | TC‎ |
| UV Resistance‎ | High‎ |
| Width‎ | 6 Inch‎ |
| Width (Metric)‎ | 152.4 mm‎ |
Technical Specifications :