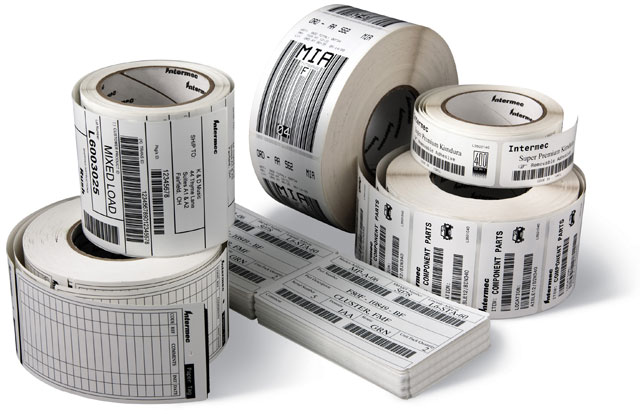 Barcode Labels
Product Code:
MIBLS
Company:
Indian Barcodes
Status:
In-Stock
Product Description :
Indian Barcodes is the leading manufacturer of all kinds of thermal barcode Labels/Sticker. Indian Barcodes is offering barcode labels/sticker with laser and offset printing. In addition to our expertise, Indian Barcodes offer preprinted barcode tags with multi color printing on both sides and single side. These are available in a variety of paper choices both indian and imported. Indian Barcodes is the professional Supplier, Dealer, and Distributor of all kinds of Labels/Stickers Tags.
Key Features :
A label is a piece of paper, polymer, cloth, metal, or other material affixed to a container or article, on which is printed a legend, information concerning the product, addresses, etc. Labels have many uses: product identification, name tags, advertising, warnings, and other communication. Special types of labels called digital labels (printed through a digital printing) can also have special constructions such as RFID tags, security printing, and sandwich process labels.
Different kinds of Labels:
Thermal Transfer Labels:These kinds of labels can be print by Citizen,TSC,Printronix,Barcode Vaults,Sato and many more branded printers.
Direct Thermal Labels: You do not have to use thermal transfer ribbon to print these labels. Direct thermal barcode labels react to the heat from the print head. This sensitivity to heat makes the label life less than a thermal transfer label.
Permanent Adhesive Labels: We have the largest selection of laser and inkjet adhesive labels. Our standard self adhesive label comes with permanent adhesive on 8.5 x 11\" sheets and a peel off liner. We also offer adhesive labels in a wide variety of colors and materials.
Temper Evident Labels: This tamper evident labels tamper evidence or tamper indication is achieved with the aid of aggressive adhesives and materials.
Removable Labels: Removable Labels allow the user to remove or reposition the label without leaving a sticky residue.
Jewellery Labels: The barcode VAULT 00024 Jewelry is a thermal transfer, white, polypropylene, label with a permanent acrylic adhesive. Offers excellent durability and chemical resistance. Suggested applications include, jewelry tags and ring labels.

Uses of Labels in various sectors:
I) Automotive : Receiving and cross docking, Inventory Control, Work in process tracking. Shipment labeling and other logistics applications.
II) Chemical Industry: Chemical Drum Label, Identify potentially hazardous product container, NEPA hazardous labels.
III) Distribution: Maintaining goods inventories, Assembling, Breaking bulk and handling, Shipping and delivery, Recyclable label stock.
IV) Electronics : Product identification labels, Temper evident labels, self-laminating piggyback labels for harsh environments.
V) Government : Create employee ID and visitor badges with easy-to-use desktop printers Efficiently meet record keeping and data recording requirements by using bar codes and smart labels to track files, evidence, property, IT equipment, and other assets.
VI) Hospitality : Guest meal and room charge tracking, Patron loyalty cards, Membership card encoding, Remote ticket printing for games and lotteries.
VII) Law Enforcement : Apply barcode labels to samples and form files for streamlined case management and automated data entry, Use mobile printers to replace hand written parking tickets and eliminate transcription and data entry at headquarters.
VIII) Life Science/Health Services: Identify lab samples and ensure accurate test data entry, Accurately track clinical trial supplies, Identify and track blood bags.
IX) Logostics : Reliable printers to create all types of barcodes for shipping labels, Mobile printers to automate pickup and delivery processes.
X) Manufacturing : Reduce raw materials inventory, Comply with traceability requirements, Automatically track work in process.
XI) Retail Stores : Conduct 100% accurate shelf-pricing audits and item re-labeling with wireless mobile printers that communicate with the master price databasein real-time, Re-label items at receipt generate transfer and return labels with shipping and receiving solutions.
Indian Barcodes supplies customized labels and stickers in various sizes for thermal transfer barcode printing. Most of the sizes or nearby match will be available from our ready stock. Custom sizes will be made to order as per customer specification depending on the label specification and the order quantity.
Technical Specifications :