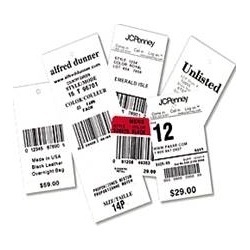 Garment Label
Product Code:
IBCGL
Company:
Indian Barcodes
Status:
In-Stock
Product Description :
Indian Barcodes is the leading manufacturer of all kinds of Garment Label. Indian Barcodes is offering Garment Label with laser and offset printing. In addition to our expertise, we offer preprinted barcode Garment Label with multi color printing on both sides and single side. These are available in a variety of paper choices both indian and imported. Indian Barcodes is the professional Supplier, Dealer, and Distributor of all kinds of Garment Label.
Key Features :
At Indian Barcode Corporation,we understand that our garment labels and tags are critical in providing the finishing touch to your merchandise also delivering important information to the consumer in the form of warnings, content information, care instructions, size, country of origin, fabric content, pricing, and perhaps most importantly, your brand identity. We pride ourselves in our ability to provide you with the highest quality of labels and tags for any/all of the above requirements.
Technical Specifications :