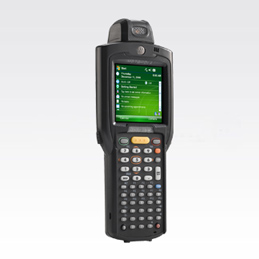 Zebra MC3000
Product Code:
MIMC3000PDT
Company:
Motorla
Status:
call us 9717122688
Product Description :
Indian Barcodes is the leading manufacturer of all kinds of Mobile Computers Zebra MC3000 Series. From the sales floor to the backroom, the Zebra MC3000 mobile computer has what it takes to affordably automate the capture of inventory data right at the point of work. Paper-based forms that need to be transcribed and manually entered into the computer are eliminated, reducing keying errors and improving productivity, workers can handle more tasks per day. With the value-priced MC3000, you get the features you need to get the job done. You can count on plenty of processing power, rugged design, superior ergonomics, flexible data capture options, enterprise-grade push-to-talk (PTT), plus centralized management.
Key Features :
This handheld device gives your mobile work fleet a highly customizable mobile computer for real-time computing.MC3000 Hand-held Mobile Computer (Brick Configuration) This advanced mobile computer is small, lightweight and rugged for applications requiring high-quality data capture and high-performance real-time computing. Customise this device to the specific demands of individual jobs, allowing employees to complete their work faster and with better results. The well-balanced brick form factor is ideal for scan-intensive environments, offering the best in comfort for your workers throughout an entire shift. The MC3000 excels at bar code scanning and wireless mobile computing within retail stores, warehouses, on loading docks, postal routes or any location demanding application performance and ruggedness.
Technical Specifications :
Decodes all 1D and 2D barcodes,color display,bluetooth option,320x320 resolution,operating system microsoft windows CE 4.2