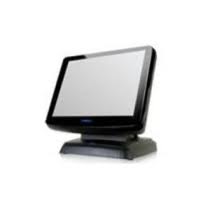 KS-7300 Touch Terminal
Product Code:
IBC7300TT
Company:
Posiflex
Status:
call us 9717122688
Product Description :
The KS-7300 series takes pride in streamlined and patented aluminum die casting and provides a user friendly environment and high speed.it is used in the retail stores, healtcare, inventory management and many more business applications.
Key Features :
The KS-7300 series takes pride in streamlined and patented aluminum die casting design, resistive (Or IR) touch screen, as well as UPS functions. The built-in UPS function is embedded on main board developed by Posiflex for better stability than others. The KS-7300 series supports Intel Core 2 Duo 2.16 GHz CPU and 17" or 15" LCD in a small footprint. Above all, the KS-7300 series is among the world 1st fan-free Core 2 Duo POS terminal in a special thermal solution. It also supports versatile peripheral options such as MSR, built-in CF memory card reader, and a wide range of connectivity to meet numerous applications.
Technical Specifications :
Resistive or IR touch screen : 17" LCD 1280 x 1024 or 15" LCD 1024 x 768 resolution.Spill-resistant design to prevent careless spill and provide easy cleaning for a wide range of applications.Equipped with Intel Celeron-M1.5 GHz CPU .Fan-free design boasting quiet and anti-dust features.Patented aluminum die casting design for efficient cooling.UPS (Embedded on main board developed by Posiflex) support to avoid sudden loss of power during transaction .Patented finger lever "Gear Lock" to adjust the LCD tilt angle from 15° to 70° vertically.Push-open cover to protect power switch from accidental shutdown.User-friendly mechanism for system upgrade and easy maintenance.LCD panel brightness control by hardware buttons or software.Bottom cable guide design and cover for safety and neat outlook.Shinny diamond black, red or white front bezel for stunning look (KS-7315 series).Generation 6 super slim base stand (Optional).