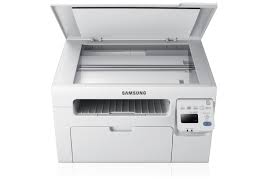 Samsung SCX-3406W
Product Code:
MI3406WSLP
Company:
Samsung
Status:
In Stock
Product Description :
Samsung SCX-3406W's One Touch Wi-Fi Setting lets you connect quickly and easily.
Key Features :
Enjoy cost-optimized results every time you print thanks to Samsung's Easy-Eco Driver. With this useful software, you'll be able to accurately preview your document before printing and adjust quality, color and other settings to meet your precise requirements and budget, as well as removing unnecessary text, images and other elements. You can even monitor savings, including paper, toner, energy and overall cost. Say goodbye to wasted printouts and discover more economically-efficient printing. Discover simplified print management with Easy Printer Manager. This integrated EPM software allows you to quickly set up your device and monitor status using only simple-to-use software. Never worry about unexpectedly running out of toner again, as toner ordering, device discovery, application linking and other functions are all easily accessible with our Easy Printer Manager.
The SCX-3406W's One Touch Wi-Fi Setting lets you connect quickly and easily. Simply select the WPS (Wi-Fi Protected Set-up) button on the access point (router), press the WPS button on the printer and you're done. Normally, you would have to spend time creating a wireless network name and manually entering a security key or password on all the wireless devices. But the ultra-convenient One Touch Wi-Fi Setting automatically configures — and protects — your wireless network for you.
Enhance the productivity of your mobile devices with Samsung Mobile Print, available for both Android and iOS users. With this application, you can print directly from a wide range of Smartphone's, mobile tablets and more. You can also scan images to your device using the multifunction printer's scanner. Mobile Print makes wireless connections quickly and easily without setting up new network configurations or installing new drivers, so you can enjoy smart connectivity for a smarter workplace.
Technical Specifications :
Unleash your workforce with 3-in-1 functionality
With 3-in-1 versatility, the Samsung SCX-3406W printer streamlines workflow and ensures that the office print operation is working as efficient as possible. With print, copy and scan functionality, the SCX-3406W offers flexibility and lets you work with less barriers. A host of innovative features like ID Copy, N-up copy, Scan-to-email and the convenient PC fax functionality ensure that your workforce has the necessary functionality needed to thrive in the modern world of business.
With the growing demand for more space efficient office equipment, the Samsung SCX-3406W Laser Printer is a perfect choice. This compact multifunction printer delivers the standard in premium printing service without the excess of unwanted sise. Small to medium businesses and home offices will find this printer ideal. And because it is so compact in design, it adds to its portability. So, save space and hassle with the Samsung SCX-3406W Laser Printer and its contemporary compact design.
Give your print-outs standout detail
If you need to make an impression, nothing shows professionalism like the stunning 1200 x 1200 dpi clarity produced by the Samsung SCX-3406W Laser Printer. High resolution printing of this caliber ensures that important print-outs, like work presentations and reports, are sharp and impressive. So, give your operation every chance of making a good impression with high resolution printing.