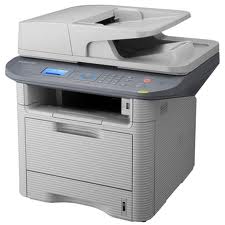 Samsung SCX-4833FR
Product Code:
MI4833FRSLP
Company:
Samsung
Status:
In Stock
Product Description :
The versatile Samsung SCX-4833FR was designed to deliver exactly that.
Key Features :
Productivity is key to running any office or professional workgroup. And the versatile SCX-4833FR was designed to deliver exactly that. Now you can print, copy, scan, fax and PC-fax with unparalleled convenience, ease and speed. Why cram a corner of your office with several different machines when all you need is one central device – the SCX-4833FR laser multifunction printer. The SCX-4833FR increases your productivity with a print speed of 31ppm. If its breathtakingly fast printing speed isn't enough, when you factor in the processing power that comes with an 600MHz Dual Core processor, fast network and memory expandable up to 768MB, there's no doubting the high-octane performance the SCX-4833FR can bring to any office. One touch of the ECO button and you've automatically selected the most eco-friendly print settings. Your printouts are automatically converted to two pages per sheet, and the toner save mode is switched on. And it doesn't stop there. With the unique Result Simulator you can see exactly how much CO2, electricity and paper you have saved with the settings you've selected. Giving you real insight into the positive impact the Samsung SCX-4833FR is having on your costs and the environment too.
Technical Specifications :
Feel free to multitask while your documents print: SCX-4833FR will crank through even your biggest print jobs without relying on you for a paper refill. Upgrade the standard 300-page capacity cassette with 520-page optional cassettes for even larger capacity paper handling, perfect for all of your bulk printing needs. Sometimes, bigger really is better. Connect everyone in your office to one network and keep everything running smoothly. They'll share a common printer and you'll save time from servicing multiple machines. And with the Gigabit LAN you can increase your performance by hooking it up to the network. Improve your communication skills with the SCX-4833FR laser printer and keep your lines of communication open. The SCX-4833FR's industry-leading first page out time will have your first high-quality print in your hands in 6.5 seconds form ready mode. With its rapid 31 page-per-minute print speed and professional-grade resolution, you'll get print shop quality in the convenience of your own office. The only problem? What to do with all that new found time. The SCX-4833FR lets you choose the right consumables option which you can afford. Toner cartridges are available in cost-effective standard-yield 2,000-page version and high yield 5,000-pages version which provide a lower cost per page and require fewer replacements. Has communication been an issue in your current printer relationship? It's time to move on. With the SCX-4833FR's big, bright display, you'll never again have to guess at abbreviations and error codes. The SCX-4833FR tells you its status in crystal-clear lettering on a 4-line LCD screen, twice the readable space of typical printers. Finally, a printer that actually speaks your language.
Samsung's Any Web Print software lets you go hunting and gathering on the Web. You can utilise the SCX-4833FR to easily select, drag, and drop content from different web pages onto a printable scrap board in your browser window, all while you surf the web. Items can be printed quickly or saved in different file formats.